Where Do I Start With the Mountain Goats?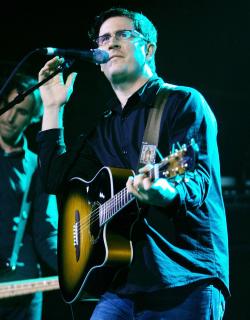 Singer-songwriter John Darnielle has been recording as the Mountain Goats for over 20 years, moving from a defiantly lo-fi approach—he recorded scores of songs directly to a crummy boom-box cassette deck—to a polished full-band sound. What's never changed is Darnielle's prolific nature: This week's Transcendental Youth is something like the Mountain Goats' 20th full-length album, and their discography is a delightful hash of EPs, comps, and Internet-only releases. (He's also great at Twitter.)
That sweeping oeuvre—plus the legendary devotion of Darnielle's fans—might make the band seem difficult to get into. In fact, whether strumming his guitar alone with a boom box or recording with Superchunk's drummer Jon Wurster, Darnielle has always written tuneful, engaging songs. Here are 10 to get you started. Enjoy them on our Spotify playlist, or find them at the YouTube and Amazon links at the bottom of this post.