Where Do I Start with Justin Bieber?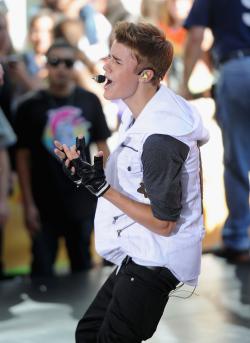 Justin Bieber's third studio album, Believe, dropped this week, to the expected range of hype and condescension. Much of the latter concerns Bieber's lyrics; see, for instance, the list of "laughable lines" that ran on the Huffington Post. Number two on that list: the widely mocked "Chillin' by the fire while we eatin' fondue / I dunno about me but I know about you."
It seems awkward at first, that line, what with its surprisingly retro reference to romantically melted food. For those won over by Bieber, though, the line is less odd than it is refreshing: a sincerely un-savvy expression of young love.
Bieber's ascent from the unlikely origins of Stratford, Ontario, to Madison Square Garden still shapes his persona as a performer: As the 2011 3-D documentary film Justin Bieber: Never Say Never makes clear, he is an aspirational artist, the small town boy who made it big. A useful contrast can be drawn between Bieber, and the other Justin of bubblegum pop, Timberlake. The latter is a better singer, and he has long since shifted to a darker, and arguably more sophisticated, brand of sex appeal. Bieber's draw is different; rather than the bitterness of "what goes around comes around" and "cry me a river," we get something more intimate. Bieber nearly always addresses, quite directly, one girl, while still singing to millions—as in "One Less Lonely Girl" from My World (2009), his first release.
I'm gonna put you first
I'll show you what you're worth
If you let me inside your world
There's gonna be one less lonely girl
The best Justin Bieber lyrics—some written by Bieber himself, others, such as those for "One Less Lonely Girl," by collaborators—are plainspoken and frank, and suggest hopefulness as well as vulnerability, even as he begins to write about his out-sized fame.
Just keep it quiet, keep it on the hush
And what we do, keep it just between us
I don't wanna see you tweet about JB
'Cause the only people that should know is you and me
As that easy reference to tweeting suggests, Bieber's lyrics are also pleasantly contemporary.
I'm 16 and I thought that you'd be mine
I used to tweet you and text you and call you and hit you on Facebook all the time
Above all, his songs are unapologetically romantic:
Girlfriend, girlfriend, you could be my girlfriend
You could be my girlfriend until the fuckin' world ends
Make you dance do a spin and a twirl and
Voice goin' crazy on this hook like a whirlwind
The following aren't necessarily the ten best Bieber songs, but they are the place to start with his music, because they showcase his underappreciated lyrical charm, whether singing his own words or giving his own spin to those by others (as on "Drummer Boy," from his Christmas album). And once the words win you over, the music will do the rest. Listen to them in the Spotify player, or find them at the links provided below.