Where Do I Start With Nas?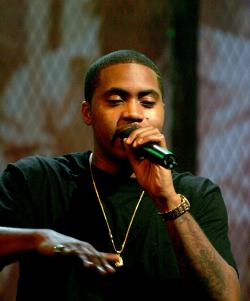 This could be the shortest ever installment of "Where Do I Start With?" The place to start with Nas is unquestionably Illmatic, his 1994 debut album. All ten tracks are classics, including "The Genesis," a rap overture introducing listeners to the sights and sounds of his bleak Queensbridge world: the rhythmic rolling of an elevated train, a snippet from Wild Style, a polite request from a crew member to "pass that Henrock." Nas burst onto the scene a fully-formed, internally rhyming (his raps, he boasted, would make him "richer than a slipper made Cinderella, fella"), street storyteller. His latest, Life Is Good, is out today.
While Nas has never recorded another wire-to-wire masterpiece like Illmatic, he has returned to its heights again and again over the course of an impressively long hip-hop career—sometimes in solo work, often in collaboration with other artists—and it's worth getting to know these subsequent recordings as well. There is some consensus that his greatest verse of all time is his cameo on Raekwon's "Verbal Intercourse." But my personal favorite remains the verse he contributed to Mobb Deep's, "Eye for a Eye (Your Beef Is Mine)," in which he slips effortlessly between descriptions of the drug game's allure—
A drug dealer's dream:
Stashed cream, keys on a triple beam,
500 SL, green, '95 nickel gleam
Condominium
Thug dressed like a gentleman,
Tailor-made ostrich,
Chanel for my woman-friend.
What's up to all my niggas swerving in New York metropolis
The Bridge brings apocalypse
Shoot at the clouds,
Feels like the holy beast is watching us.
Mad man, my sanity is going like an hourglass,
Gun inside my bad hand I sliced trying to bag grams.
The playlist below offers highlights from across Nas's body of work, in chronological order. Fans will quibble with some of my selections and many of my omissions. For instance, I've left out Nas's Jay-Z takedowns (and his Jay-Z reconciliation), which I find more interesting as gossip than music. There's no accounting for taste, but hopefully this playlist does account for why we Nas fans have stuck with him through thick and thin:
A few notes on the selections:
One of the most exciting aspects of Nas's art is his willingness to experiment formally, but these experiments tend to divide his fans. Many people admire "I Gave You Power," in which he tells the life story of a firearm in the first person; it doesn't work for me. Neither does "Rewind," an undeniably clever track in which he recounts the tale of a ghetto shooting in reverse. And yet I love "Who Killed It?", an even higher-wire act in which Nas, rapping in his best Edward G. Robinson voice, retells the history of hip-hop as an allegorical, 1930s noir caper. Ya see?

"Who Killed It?" is doubly divisive in that it's also one of many tracks Nas has recorded in his capacity as hip-hop's Official Historian, a self-appointed post. Nas's historiography rubs some listeners the wrong way, as it favors his own sound and milieu and is rather conservative. But my tastes dovetail with Nas's, so I tend to give these songs a pass. "U.B.R.," which is presented as the unauthorized biography of rap legend Rakim, also falls in this category.
As noted above, many of Nas's best verses have come in guest appearances. I left most of these off the playlist in favor of Nas's own work. A "Where Do I Start With Nas's Cameos?" list would have to include "Body in the Trunk" (with Noreaga), "Stay Chisel" (with Large Professor), and "Fast Life" (with Kook G Rap), among others. I also happen to love several cuts from the lone album released by the failed super-group The Firm—especially "Phone Tap"—but I recognize I'm in the minority.
The excellent track "Silent Murder" isn't on Spotify; it was released on Nas's second album, It Was Written, but only on the cassette version. If you still happen to have a copy, remember to never put it in your box if your shit eats tapes.
One love to Nas aficionados Bret Asbury, Simon Hanft, and Kevin Woodson for their help with this post.