Where Do I Start With Devo?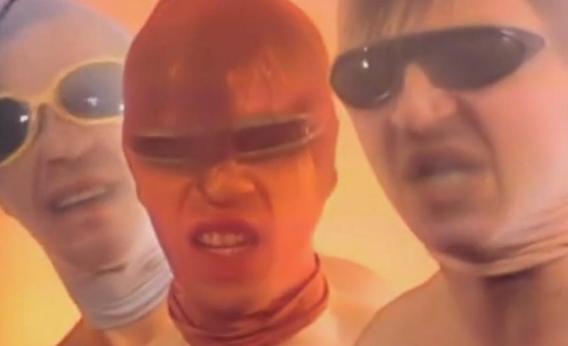 This month marked the launch (and swift success) of a Kickstarter campaign to raise funds for an authorized Devo documentary that's been three years in the making. As shown in the five-minute preview below, the film, titled Are We Not Men?, traces the Ohio New Wave band's origins at Kent State University, where founding members Jerry Casale and Mark Mothersbaugh met as art students and were driven by the Kent State Massacre of 1970 to express their dystopian view of American culture through music. Their viewpoint was original and insightful enough that when Iggy Pop (who, with David Bowie, helped get the band its recording contract) first heard Devo, he says, "I felt like Columbus. I felt like I just discovered America."
But when Devo first gained notice in the late 1970's with their geeky sci-fi uniforms and creepy concept of cultural "de-evolution," many critics dismissed their work as cynical and misanthropic. In his Rolling Stone review of the band's Brian Eno-produced debut album, Q: Are We Not Men? A: We Are Devo!, Tom Carson said it was "impossible to tell whether these guys are satirizing robotlike regimentation or glorifying it." Robert Christgau complained of the album's "antihumanist sci-fi silliness" and its "reveling in decay."
Devo's sound and style turned out to be hugely influential on subsequent New Wave artists, and on future big-time musicians like Lady Gaga and Kurt Cobain, who called Devo "the most challenging and subversive of all" the bands that broke from the underground into the mainstream in the 1970s. And the band's depiction of a rigidly conformist culture hijacked by technology and advertisements turned out to be so prescient that it has allowed Devo to cop a deservedly I-told-you-so attitude today. Casale has said of the band's grim current-day relevance, "We're not the guys who freak people out and scare them—we're like the house band on the Titanic, entertaining everybody as we go down."
But despite the band's far-ranging influence and exalted cult status today, Devo's mainstream success remains mostly limited to "Whip It," the 1980 hit single whose dude-ranch-set music video made ample use of a whip* and left room, in characteristically ambiguous Devo style, for multiple interpretations (indictment of the capitalist grind or celebration of S&M?). The rest of their early output, though it's as catchy and energetic as any New Wave or synthpop group's since (and their music videos are some of the best, ever), remains less broadly appreciated or understood than it should be.
For those who don't yet consider themselves Spuds, as Devo fans are known, here's a list of ten essential tracks, weighted heavily toward the early albums that defined the band's sound and absurdist brand of visual and lyrical satire. The list includes "Jocko Homo," which announced Devo's "de-evolution" concept ("They tell us that we lost our tails, evolving up from little snails. I say it's all just wind in sails.") and the band's cover of "(I Can't Get No) Satisfaction," which transformed the Stones' classic ode to sexual frustration into a jagged, yelping punk song. ("Working in a Coal Mine," also included, is a cover of an Allen Toussaint song.) The newest track on the list, from 2010's Something for Everybody, Devo's first studio album in twenty years, was produced in collaboration with Santi White, aka Santigold, one of the many artists whose contemporary New Wave sound owes a debt to the Ohio nerd rockers.
Correction, July 20, 2012: This post originally misidentified the prop prominently featured in Devo's music video for "Whip It" as a riding crop. It is a whip. (Return to the corrected sentence.)