| 
Posted Tuesday, May 21, 2013, at 1:10 AM
Beyoncé's new single is her latest anthem of female empowerment.

Photo by Ezra Shaw/Getty Images
To be a lead single from Beyoncé these days, you need four things: A syncopated, up-tempo beat, some stabs of brass or synths to go over it, a chorus of female shout-along voices (mostly Beyoncé's), and a message of female empowerment.

It started with "Single Ladies (Put a Ring on It)," off I Am… Sasha Fierce, it continued with "Run the World (Girls)," off 2011's excellent 4, and now it continues once again, with "Grown Woman," from her as-yet untitled forthcoming album. As you can hear below, the new song has hit the web, and all Beyoncé forgot was the parenthetical.
Read More »
 | 
Posted Monday, May 20, 2013, at 4:49 PM
Note the instructions.
Mark Vanhoenacker.
In our effort to dispel the mysteries of the modern visual landscape, it's time to think outside the box. For previous columns, click here; to submit your own suggestions, email us.
In previous editions we've addressed some pretty serious issues: the curious differences in the shape of toilet seats, the diabolical gates of fire that guard our wilderness areas, the mysterious wires that float nearly unseen above our streets.
But this week's mystery is something special. This one is going to blow your effing mind.
Rick Evans, a graphic designer based in Underhill, VT, wrote in to point out the little impressionable tabs that appear on the ends of boxes of aluminum foil and plastic wrap. My quick informal survey confirms what Rick himself found: that approximately 0 percent of the American population is aware of the existence of these tabs.
That's an approximate percentage, mind you. Rick Evans knows they exist, and what they're for. And so does his mom. Do you?
Read More »
 | 
Posted Monday, May 20, 2013, at 4:03 PM
 | 
Posted Monday, May 20, 2013, at 1:49 PM
Are the men of Mad Men in the midst of their Vietnam?

Photo by Jordin Althaus/AMC
Spoilers ahead

Is the Chevy account Mad Men's Vietnam? The Internet's army of recappers seems uncharacteristically unsure of what to make of last night's episode, complete with company-sponsored juicing, exhaustion-fueled hallucinations, and a song and dance number from Kenneth Cosgrove. But I have a crackpot theory: After a season that began by teasing a year of violence in Vietnam, this episode's trip down the rabbit hole finally led to that distant war abroad—a "fever dream" treatment of the nation's panic not unlike the show's treatment of the Kennedy assassination—or at least that's how I'd explain everything that went down at the office.
Read More »
 | 
Posted Monday, May 20, 2013, at 11:13 AM
Somehow I suspect that the newly announced Star Wars cartoon, Star Wars Rebels, which will take place in the time between Episodes III and IV and will debut on the Disney Channel next year, will not be nearly as good as this.
 | 
Posted Monday, May 20, 2013, at 10:28 AM
Over the weekend, the University of Virginia uploaded to YouTube Stephen Colbert's Valedictory Adress to the school's 2013 graduates. Colbert offers his thoughts on university founder Thomas Jefferson and his version of the school's honor code ("I have neither given nor received help on this assignment, so help me Adderall") before arriving at the advice portion of his speech, which includes such gems as: "You do not owe the previous generation anything. Thanks to us, you owe it to the Chinese."
 | 
Posted Sunday, May 19, 2013, at 10:55 AM
Bill Hader is leaving Saturday Night Live, and the show gave his breakout character, Stefon, a worthy send-off: a wedding with Anderson Cooper attended by many of his wacky club friends and broken up by his true love, Seth Meyers.
 | 
Posted Sunday, May 19, 2013, at 1:06 AM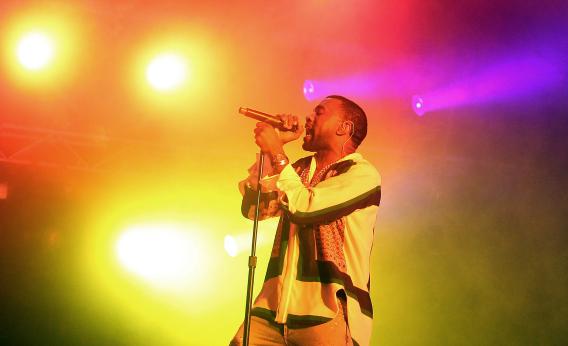 Kanye West performs on stage in 2012

Mark Metcalfe
After unveiling his new song, "New Slave," on Friday night in "the most Kanye way possible," Kanye West took to the Saturday Night Live stage and did it again, this time live and in the flesh. The rapper's new album has been described as "dark" and—after one performance in which he yelled while dodging in and out of dark shadows ("Black Skinhead"), followed by an equally intense live rendition of "New Slave" performed in front of a projection of his face in extreme close up—the music certainly lived up to that descriptor.

Read More »
 | 
Posted Friday, May 17, 2013, at 11:14 PM
Kanye West performs in New York City in 2012.

Photo by 13thWitness/Getty Images for Samsung
Tonight, Kanye West debuted a new song in the most Kanye West way possible: By projecting his giant head onto the sides of 66 different buildings around the world.
All the locations where you can check this out—both the new song and the accompanying visual—are mapped on KanyeWest.com: The 10 cities are San Francisco, Los Angeles, Miami, Chicago, Toronto, Paris, London, Berlin, and Sydney, with most or all cities featuring multiple locations.

Or, of course, you can just try to watch the whole thing online. It's surprisingly hard to find a full video of the angry new song, called "New Slaves." Perhaps, as with videos of Kanye's surprise concert appearance earlier this week, they're being taken down. But I'll post the best video I can below.
Read More »
 | 
Posted Friday, May 17, 2013, at 8:19 PM
Torpedoes, or drones?
Photo by Zade Rosenthal © Paramount Pictures 2013. All Rights Reserved.
Major spoilers ahead

The mission of Star Trek might be to explore strange new worlds, to seek out new life and new civilizations, but the concerns of the latest star Trek movie, Star Trek Into Darkness, are strangely earthbound. And I don't just mean because it's more interested in phasers and explosions than in pseudoscience and applied phlebotinum. I'm referring to how, even as it ramps up into a full-on action flick, Star Trek Into Darkness offers up a surprisingly nuanced critique American military power.

It's no secret that Star Trek Into Darkness is meant as a post-9/11 allegory about American foreign policy. In fact, we've known this since 2009, when director J.J. Abrams and screenwriter Roberto Orci revealed that they thought the sequel "need[ed] to do what [Trek creator Gene] Roddenberry did so well, which is allegory," for "modern-day issues," like torture, terrorist threats, and politicized wars. Star Benedict Cumberbatch, speaking to BBC America earlier this month wasn't afraid to be more specific: "It's no spoiler I think to say that there's a huge backbone in this film that's a comment on recent U.S. interventionist overseas policy from the Bush, Cheney and Rumsfeld era," he said. And then there's the message that appears on screen right before the credits: "This film is dedicated to our post-9/11 veterans."
Read More »