Where Do I Start with Blur?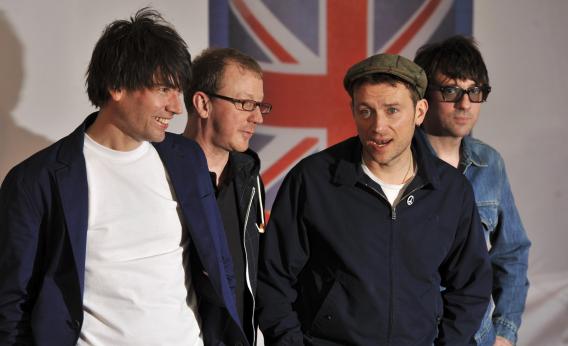 "You're taking the fun out of everything" goes the first line of Blur's breakthrough U.K. hit, "There's No Other Way." Nothing could have been more misleading: If you mention their name to any English person between the ages of 25 and 40, chances are you'll get a big smile. The affection with which the Brits hold Blur to their hearts these days is approaching Madness or Kinks-like levels. Recent reunion concerts have been a huge draw, and they are soon to form the heart of the Olympic closing ceremony concert in Hyde Park.
Like rainy Victorian resorts and pork pie, Blur are a British institution, which has sometimes made it difficult for them to translate effectively across the Atlantic or to find a berth in the wider global marketplace. Damon Albarn's work with Gorillaz is much more placeless—bright pop for the digital age. By contrast, there's something analogue about Blur. At times during their '90s peak, for instance, they were wont to wear Philip Larkin's misted spectacles—though their nostalgic tendencies were always tempered by scratchier, more leftfield leanings. These were partly down to the band's lead guitarist Graham Coxon, who remains an indie god to U.K. fans, with an impressive, ongoing solo career. But Albarn's own cultural wanderlust was also crucial, and this play between the esoteric and the universal underpins Blur's best music.
Typically for someone of my generation, I became aware of Blur some time in 1994, when they were at their most music-hall. This remains the period of the band that most British hold dearest, with its paeans to bank holiday traffic jams and Camden character sketches. The songwriting on the albums Modern Life Is Rubbish (1993) and Parklife (1994) is pin-sharp, but Blur's most intriguing music arguably came later, with the darker Blur (1997) and 13 (1999). These are records of Beatles-esque versatility, blending punk, grunge, Americana, electronica, and even gospel to frequently mesmerising effect. The Coxon-less Think Tank (2003), their last full album of new material, remains their highest charting effort in the United States, and a clear prelude to Albarn's post-Blur career, bringing African inflections and hip-hop influences into the mix; it's certainly a long way from "London Loves" and "Tracy Jacks."
It's difficult to get a clear perspective on such a chameleonic band from ten tracks, but hopefully these nuggets will lead you to your Blur. The selection is mostly comprised of singles, from the brassy manifesto of "Popscene" all the way to the aching hangover of lost love in "No Distance Left to Run" perhaps Albarn's finest ballad. In between these two poles are three Parklife gems: a nouvelle vague clinch ("To The End"), a drizzly tribute to the BBC shipping forecast ("This is a Low") and an absurdly catchy analysis of Britain's boozy '90s club culture ("Girls and Boys"). They are followed by two 1997 highlights, one druggy and Lennon-ish ("Beetlebum"), the other a staple of sports arenas and TV schedules the world over (festival favourite "Song 2"). 13 is represented by the almost devotional "Tender" (a perfect example of Albarn and Coxon's yin-yang dynamic) and the Coxon-sung "Coffee and TV," which coaxes bucolic magic and dry wit from a lyric about the perils of alcoholic misanthropy. As a postscript, I've included an album track from Think Tank, "Ambulance," which builds post-rock paranoia from drum loops, scuzzy bass, and grand washes of synthesizer. Like this last song says, you've "nothing to be scared of."

Listen to these songs on Spotify, or find them on YouTube and Amazon: "Popscene," Midlife: A Beginner's Guide to Blur (2009); "Girls and Boys," Parklife (1994); "To The End," Parklife (1994); "This is a Low," Parklife (1994); "Beetlebum," Blur (1997); "Song 2," Blur (1997); "Tender," 13 (1999); "Coffee and TV," 13 (1999); "No Distance Left to Run," 13 (1999); "Ambulance," Think Tank (2003).

Previously in Where Do I Start With?
Devo
Nas
John Cage
Justin Bieber
The Beach Boys
The Talking Heads
Bruce Springsteen
Madonna
Lambchop
The Magnetic Fields
Whitney Houston