Follow Friday: The Internet's Wittiest Angst-Ridden Folk Musician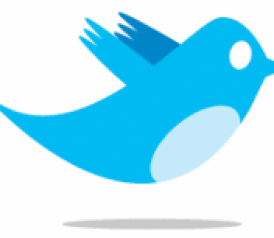 Twitter can be a big disappointment for someone hoping to forge connections to her favorite musicians: Famous people, one soon learns, don't always write their own tweets. I was so excited after joining Twitter to follow Lyle Lovett, for instance—only to find his avatar unfailingly accompanied by the sparse, characterless remarks of a milquetoast publicist.
There are a few folk heroes out there, though, who not only author their own Twitter feeds, but put their hearts into tweeting.
I'm thinking of John Darnielle, who tweets practically nonstop under the handle @mountain_goats, the name of the folk band he fronts. The Mountain Goats are nothing if not heartfelt: Their minimalist arrangements, usually built around the gentle strum of Darnielle's guitar, pulse with desire, sorrow, and desperation. Over the two decades that Darnielle has written and performed under The Mountain Goats moniker, his graceful lyrics have covered the gamut from failed marriage ("No Children") to alcoholism ("Game Shows Touch Our Lives") to child abuse ("Hast Thou Considered the Tetrapod")—not exactly light stuff.
And yet Darnielle's tweets are, to my continual delight, full of a different kind of heart. They're insightful, playful, and often very funny. Darnielle intended to make a living as a poet before starting The Mountain Goats, but his tweets belie any stereotypes of the daydreaming sort: They come from someone with his feet firmly planted on the ground.
From his Twitter feed I have learned that Darnielle is interested in politics, feminist activism, professional boxing (he sometimes live-tweets exciting bouts), vegan cooking, and his infant son. He engages eagerly with fans—his homepage is a flurry of ampersats from his back-and-forths with followers. But his best tweets are 1) incisive and hilarious observations on cultural phenomena and 2) updates from the inner workings of his mind—written in impeccable Internet house style:
Wait, so is "999" is the actual number of Republican debates they're going to hold this calendar year? seems excessive
Don't mean to break too many hearts but if you weren't in my kitchen just now you missed my impromptu a cappella performance of "No Scrubs"
The amount of time I just spent failing to find out the name of a specific Law and Order episode is either tragic or heroic, or maybe both.
Mute sound on any fast food commercial and suddenly know beyond any shadow of doubt where all 80s porn directors found work after retirement
Granted, part of the hilarity comes from knowing that these thoughts come from a lyricist who once wrote a song about walking forlornly into the Atlantic Ocean and not walking out again ("In Corolla"). Like the proverbial sad clown, Darnielle seems to have a personality wildly at odds with the art he creates. And to judge from their enthusiastic Twitter conversations with him, his fans wouldn't want it any other way.