Where Do I Start With Prog Rock?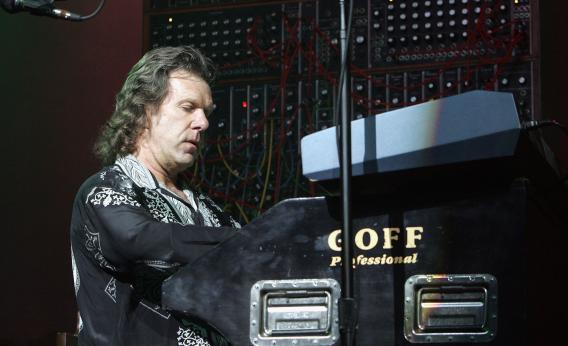 This week in Slate David Weigel dons his golden cape for an extended riff on the rise and fall of progressive rock. We asked Weigel to send us 10 of the best songs for introducing an aspiring fan to the much-maligned genre, and he sent us this 20-song, three-hour playlist.

You can also listen to some of these songs on Amazon and YouTube: "Flower King of Flies," by Nice, from The Thoughts of Emerlist Davjack (1967); "Vivaldi" by Curved Air, from Airconditioning (1970); "Master of the Universe" by Hawkwind, from In Search of Space (1971); "Riah Sahiltaahk" by Magma, from 1001° Centigrades; "Hocus Pocus" by Focus, from Focus II (1971); "Death Walks Behind You" by Atomic Rooster, from Death Walks Behind You (1970); "Golf Girl" by Caravan, from In the Land of Grey and Pink (1971); "Legend of a Mind" by Moody Blues, from In Search of the Lost Chord (1968); "Thick as a Brick" (edited version) by Jethro Tull, from Thick as a Brick (1972); "Refugees" by Van Der Graaf Generator, from The Least We Can Do Is Wave To Each Other (1970); "Firth of Fifth" by Genesis, from Selling England by the Pound (1973); "Out-Bloody-Rageous" by Soft Machine, from Third (1970); "The Gates of Delirium" by Yes, from Relayer (1974); "Birds of Fire" by Mahavishnu Orchestra, from Birds of Fire (1973); "Tubular Bells Part One" by Mike Oldfield, from Tubular Bells (1973); "Fitter Stoke Has a Bath" by Hatfield & The North, from The Rotters' Club (1975); "A Tab in the Ocean" by Nektar, from A Tab in the Ocean (1972); "Catherine Howard" by Rick Wakeman, from The Six Wives of Henry VIII (1973); "Take A Pebble" by Emerson, Lake & Palmer, from Emerson, Lake & Palmer (1970); "Galadriel" by Barclay James Harvest from Once Again (1971).
Advertisement

TODAY IN SLATE
Medical Examiner
The Most Terrifying Thing About Ebola
The disease threatens humanity by preying on humanity.