Where Do I Start With Elvis Costello?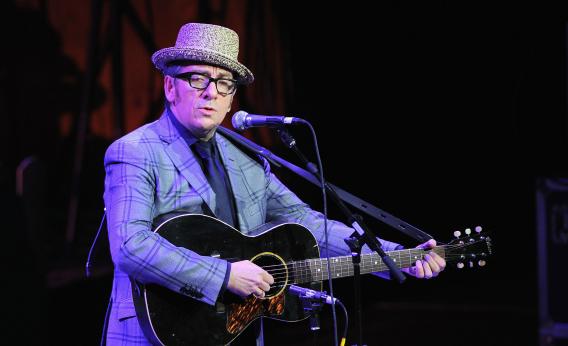 Elsewhere in Slate, read John Lingan's article on Elvis Costello's underappreciated literary legacy.

Elvis Costello has explored so many small rooms in his musical taste that no ten songs could convey the whole house. Starting with My Aim is True in 1977 and lasting through Imperial Bedroom in 1982, he made a series of six records that could all serve as a single-stop introduction. Other than Almost Blue, a collection of country covers, they all exhibit his early vocal snarl and biting lyrics. I've chosen some of the most representative tracks from those albums, though I'm sure a couple Get Happy!! boosters will take issue with my overlooking that one.

Both Get Happy!!, written in the style of Stax soul, and Almost Blue (the aforementioned country collection) are stylistic concept albums. Costello continued this trend with King of America in 1986, though that record's Americana-influenced acoustic sound has proved to be the general starting point for the genre he inhabits most often nowadays. As roots music it's pretty stiff, though "Brilliant Mistake" remains one of his best and best-loved songs.

Since then, Costello has recorded albums with the classical Brodsky Quartet, the pop composer Burt Bacharach, the jazz big band Metropole Orchestra, New Orleans legend Allen Toussaint, and opera singer Anne Sofie von Otter, as well as rock albums with The Attractions and his newer band The Imposters (which has only a different bassist). From all these different efforts I've chosen "Hora Decubitus" and "The Sharpest Thorn" because they show just how far afield Costello's traveled yet how good he can still be in some of these more distant musical landscapes. The former is a Charles Mingus composition from 1959, to which Costello wrote original lyrics. The latter was co-written with Toussaint for their 2006 post-Katrina tribute to New Orleans.

Costello's most recent records were both serious roots albums, with dobros and fiddles and T-Bone Burnett producing. Your guess is as good as mine what he's recording now. But that's part of the fun.