Where Do I Start With Ben Folds?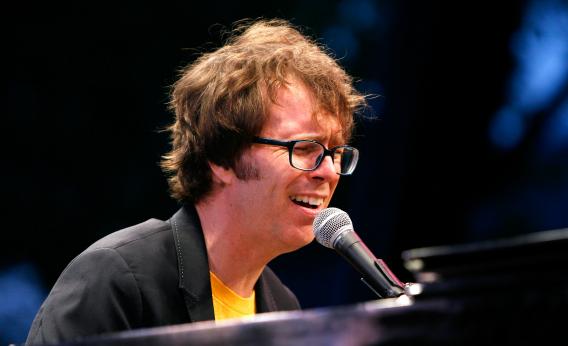 For those who came of age in late-'90s and early-'00s suburbia, Ben Folds Five's new album, The Sound of the Life of the Mind, is an occasion for serious nostalgia. More so than any other musician, Folds provided the soundtrack of my adolescence, much of which was spent at a public high school in an affluent town outside Baltimore. For those of my classmates too snobby for Top 40 but neither drawn to hip-hop nor with-it enough to know about freak-folk, there was Folds.
Folds' primary appeal has always been his brilliant pop compositions, shot through with virtuosic piano playing. Folds writes accessible ballads and punchy anthems, the best of them anchored by funky bass lines and adorned with gloriously Bee Gees-inflected background vocals. (This was especially the case during the Ben Folds Five years; the trio broke up—or perhaps, given the new album, "went on hiatus"—in 2000, after which Folds embarked on a solo career.)
But besides his musical prowess, Folds had just the right politics to appeal to a certain type of disaffected, middle-class, suburban kid. He made no bones about his atheistic, left-wing inclinations, devoting entire tracks to making political points. In the hilarious, fierce "Uncle Walter" on Ben Folds Five's eponymous 1995 album, Folds skewers the ignorant ranting of a middle-aged reactionary. In "The Ascent of Stan," he asks a former hippie, now gone corporate, "How's it feel to be the man?" Calling out hypocrisy was Folds' specialty, and though his lyrics were sometimes glib—"All U Can Eat," a 2003 screed against overconsumption, may make you roll your eyes—they were tailor-made for mildly rebellious youths.
But Folds' popularity had as much to do with identity as politics. His principal topics were the trials and tribulations of the straight, white, middle-class male; any kid who matched those descriptors could probably find some resonance in his lyrics. (As a straight, white, middle-class girl, I wanted to learn about the opposite sex; if I wasn't Folds' exact target audience, I didn't notice.) By combining petulant rebellion and slacker indifference, Folds articulated what it was like to be unhappy without really having much to complain about. And he approached this subject with a degree of self-mockery: His best compositions walk the line between flippant and earnest, seeming to pinpoint some exact socioeconomic coordinate.
Many of these—a few of which I've collected on the Spotify playlist below—are autobiographical, and were originally recorded during the Ben Folds Five era. Take "One Angry Dwarf and 200 Solemn Faces" from Whatever and Ever Amen, which sardonically describes Folds' lingering resentment toward his childhood bullies. Even better is the tour de force "Army" from 1999's The Unauthorized Biography of Reinhold Messner (the last Ben Folds Five album until this year). Against a driving drumbeat and a resplendent horn section, "Army" traces Folds' rise from a college dropout to a rock star who tries but isn't quite able to escape his "redneck past." Both are poignant and sincere, with just enough self-satire mixed in to keep them from getting too angry.
Folds' entirely serious songs are affecting at first but don't stand up to much scrutiny. Some of his love songs, like "Jane" and "Learn To Live With What You Are," are paragons of mansplaining, full of condescending, unsolicited advice about self-acceptance. Folds also has an unfortunate habit of appropriating other people's struggles to give emotional heft to his music. There's "Brick," for instance, the downbeat piano ballad with the now instantly recognizable hook, which gave Ben Folds Five its biggest radio hit in 1998. It tells the true story of the time Folds' high-school girlfriend got an abortion. "She's a brick and I'm drowning slowly off the coast and I'm headed nowhere," Folds sings. When I was a teenager, this seemed like thoughtful commentary about abortion. Today, it feels exploitative and seems to dehumanize Folds' former girlfriend. Equally troubling is "Late," the song Folds wrote in memory of Elliott Smith's death, which is astonishingly presumptuous about Smith's emotional state before his suicide in 2003.
Equally unsuccessful are Folds' entirely unserious songs. The lively "Song for the Dumped"—one of Folds' most popular songs, if my experience at his concerts is any indication—is told from the point of view of a man who's just been dumped. Here's the chorus: "Give me my money back, give me my money back, you bitch / I want my money back." It's hard to tell whether Folds (or his listeners) really believes that paying for dates entitles a man to a woman's sex and affection. (His other songs about women aren't terribly reassuring to feminist listeners: The women in Folds' songs are usually either haranguing harridans or emotional cripples in need of constant reassurance.)
Even more disquieting is the smart-alecky "Rockin' the Suburbs," which attempts to send up Folds' cult status among suburban teens by mocking his own lack of urban credibility. "Y'all don't know what it's like/ being male, middle-class, and white," he sings, before dismissing concerns about racism by asserting that slavery "wasn't my idea." I know that Folds meant "Rockin' the Suburbs" to be a jab at himself, but it reads as the musical manifestation of an enormous chip on his shoulder. Similarly offensive is Folds' slow, acoustic cover of Dr. Dre's "Bitches Ain't Shit," which was part of an ugly mini-trend in alternative pop. (See also: Dynamite Hack's "Boyz-n-the-Hood.") Like "Rockin' the Suburbs," this bit of quasi-minstrelsy ostensibly pokes fun at Folds' whiteness, but comes across as sneeringly chauvinistic.
Folds' 2010 collaboration with Nick Hornby, Lonely Avenue, was a return to the middle path: funny but not snide, tender but not patronizing. (Hornby is, of course, fiction's reigning king of sheepish white-male angst, making the alliance feel inevitable.) Their "Levi Johnston's Blues," with a defiant chorus lifted nearly verbatim from Johnston's MySpace page, has just the right balance of contempt and sympathy for its subject. One hopes The Sound of the Life of the Mind will have more along those lines.
But even if the new album is as entertaining and vigorous as Ben Folds Five's old stuff, I'm sure it won't evoke the same feeling of solidarity that Folds' recordings inspired in me when I was 15. I may feel sentimental about how much that music meant to me back then, but listening to it now feels like reading an old diary. I have empathy for who that person was, but I wish she had had a little perspective.