The Flytrap Blame Game
Who really deserves sympathy? And who doesn't? Slate keeps score.
a) Unapologetically vicious, partisan, and unforgiving in his impeachment quest.
a) Consistent throughout the scandal: He has been pushing impeachment since before Monica materialized in January.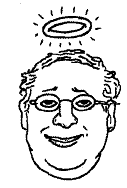 Kenneth Starr (The public's rating: -9)
a) Seems merciless toward Clinton.
b) Has pursued investigation into Clinton's private life with more zeal than seems appropriate.
c) Is too willing to provoke constitutional standoffs for the sake of his investigation, seems indifferent to the dignity of the presidency.