Where Do I Start With Brad Paisley?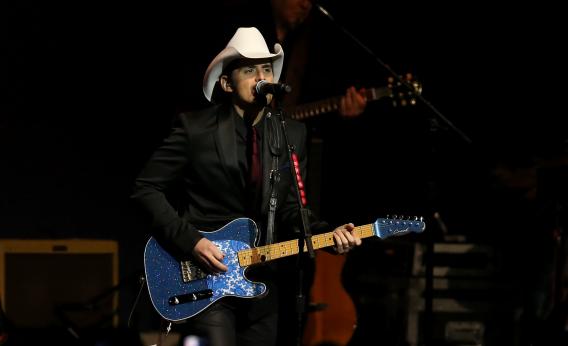 "Brad Paisley's sudden fame must be so irritating to people who have put years of good work into being intentional racists," tweeted the Nigerian-American novelist and critic Teju Cole this morning. Pundits have been thundering against Paisley since the release of "Accidental Racist," his well-intentioned but gauche and muddled duet with LL Cool J. Like Cole, many of these insta-country music critics know little about country music—may never have heard of, let alone heard, Brad Paisley.
There's nothing sudden, of course, about Paisley's fame. For more than a decade, he's been one of country's biggest hitmakers, a lavishly gifted singer-songwriter with a knack for hooks and jokes and pathos, and one of the most fearsome guitarists on the planet. He's also, definitively, a 21st century country star, who—gently, amiably, wittily—has prodded and provoked pop's most conservative audience, with songs that stake out progressive ground on thorny questions of regionism and, yes, race.
For nuanced, historically-informed takes on "Accidental Racist," read these pieces by Kelefa Sanneh, Eric Weisbard, and Alan Scherstuhl. For a broader look at Paisley and his music, check out Sanneh's excellent New Yorker profile, Robert Christgau's 2009 essay, and, perhaps, this New York Times piece. And to begin exploring Paisley's music, try these 10 songs: sauntering old-fashioned country ballads, arena rock-laced anthems, jazzy guitar showpieces, blustery power ballads; songs about love and marriage, off-roading in pickup trucks, getting drunk, the glory of Barack Obama's 2008 election, the glory of fly fishing.