Where Do I Start With Richard Thompson?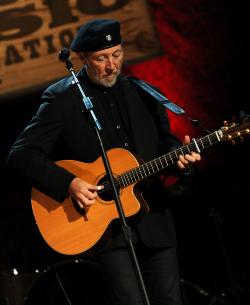 Yesterday Richard Thompson released Electric, and the early buzz is that it's his best album in a decade, full of the great songwriting and stunning guitar that has characterized his entire output. This will probably not do much to increase his fan base, though: Thompson, despite tremendous critical acclaim and a decent-sized following, has never become a big-time star. His last album, Cabaret of Souls, was a musical play about a talent contest in the underworld. That this didn't seem like such an oddity to Thompson fans may explain both why he has never managed to achieve broad recognition and also why his followers remain so devoted.
A stellar musician—in 2003, Rolling Stone named him one of the top 20 guitarists of all time; Nick Hornby has a character in High Fidelity call him "England's finest electric guitarist"—and a songwriter whose tunes have been recorded by (among others) Elvis Costello, Robert Plant, Los Lobos, Bonnie Raitt, and R.E.M., Thompson has always been known for his variety. At 18, when he helped form the hugely influential English folk-rock band Fairport Convention, he was already a virtuoso; producer Joe Boyd signed the band after seeing Thompson liven up the group's Dylan covers with solos that quoted from Django Reinhardt and Charlie Christian. His albums have featured rock, jazz, Middle Eastern, rockabilly, Celtic, British music-hall, and country. When, in 1999, Playboy asked Thompson to come up with a list of the best songs of the last millennium, he quickly realized the question was really about the last 40 years—then obstinately took them at their word. The result was a popular live set, and later album, known as 1000 Years of Popular Music, which includes medieval and Renaissance songs along with Gilbert and Sullivan, Stephen Foster, The Who, Prince, ABBA, Hoagy Carmichael, even Britney Spears. In addition to the two dozen or so albums he's recorded, he's done soundtracks (most notably for Werner Herzog's Grizzly Man), session work (for Nick Drake among others), and collaborations.
All this makes it especially difficult to come up with a 10-song list for the uninitiated. Should they be his "best" songs? His most representative? Ones that show off his range? I decided to focus largely on the narrative songs that most people regard as his best work. The newest song I've included is from 1999; Thompson has written terrific songs more recently, but the tunes below serve as the most apt introduction to his music. Fans I've discussed this list with have suggested many, many other possibilities—one of his biographers gives a top 50 list—but there's enough here to give a sense of his virtuosity. Two recent boxed sets, Walking on a Wire and RT: The Life and Music of Richard Thompson, with dozens of songs from both his albums and his amazing live sets, will give a much fuller picture.
Thompson's "Meet on the Ledge" became Fairport Convention's unofficial anthem, but you should start instead with "Matty Groves." A traditional English ballad that has been widely recorded—Doc Watson has a particularly good rendition—Fairport's 1969 version maintains the song's emotional power while updating it with a fantastic, long guitar solo from Thompson, conclusively demonstrating that "folk rock" meant more than just plugging in jangly electric guitars and playing old songs the same way. "Dimming of the Day," my second choice, may sound like a romantic love song, but it is actually a Sufi devotional, from Pour Down Like Silver, the clearest statement of Thompson's Muslim beliefs. (It's paired on that album with "Dargai," Thompson's mournful rendition of a Scottish fiddle tune.)
Shoot Out the Lights, the album Thompson recorded as his marriage was dissolving, is regarded as his masterpiece; Rolling Stone called it "perfect, an album for which even five stars seems not enough." The passionate and painful collection ends on a hopeful, even happy note, with the ringing major chords of "Wall of Death" celebrating the joys that life brings even as danger lurks in the background. Thompson's songs are frequently gloomy, though, and "The End of the Rainbow" is a breathtakingly bleak address to an infant, cataloguing the misery and hatred in the world, with its chorus concluding, "There's nothing at the end of the rainbow/ There's nothing to grow up for anymore." That song is also quite funny: Thompson has a great sense of humor, and even his most bitter and angry songs have unexpected zingers. In "Tear Stained Letter," a rollicking, vitriolic, Cajun-flavored address to an ex, which incorporates accordion and saxophone, he sings, "My head was beating like a song by the Clash."
In "From Galway to Graceland," an Irish woman walks out of her long marriage to spend her days kneeling at Elvis's graveside, until the police haul her away. In "Beeswing," the narrator falls in love with a free spirit, and then must grapple with the devastating repercussions of her unwillingness to be tied down. And "1952 Vincent Black Lightning," perhaps Thompson's most famous song, is an updated English ballad, where a young man's love for the redheaded, leather-clad girl he squires around on his motorcycle cannot save him from the violence it took to acquire it.
These three songs adhere to the classic singer-songwriter model, Guy with Guitar—although "Vincent" sounds more like Guy with Four Hands and Two Guitars. But Thompson excels at the bigger arrangements as well. "Al Bowlly's in Heaven" is a crippled, shell-shocked WWII veteran's lament for his carefree prewar nightlife, played over a deliberately old-fashioned jazz instrumental. And we go out with the out-and-out rocker "Cooksferry Queen," the tale of a criminal kingpin of "a town with no future, but that's where my future lies," a man willing to give up everything for the "bright jewel of the alley" that suggests another life.
On the Spotify playlist below, some of the tracks are live recordings, and "Dargai" has been cut from "Dimming of the Day" (not by us!). We've also provided links to the songs on YouTube (where, again, some of the tracks are only available live). You'll also find links to the studio albums on Amazon.