I'll Never Forget How Prudie Helped Me
Letters from fans and advisees about how Dear Prudence's Emily Yoffe changed their lives.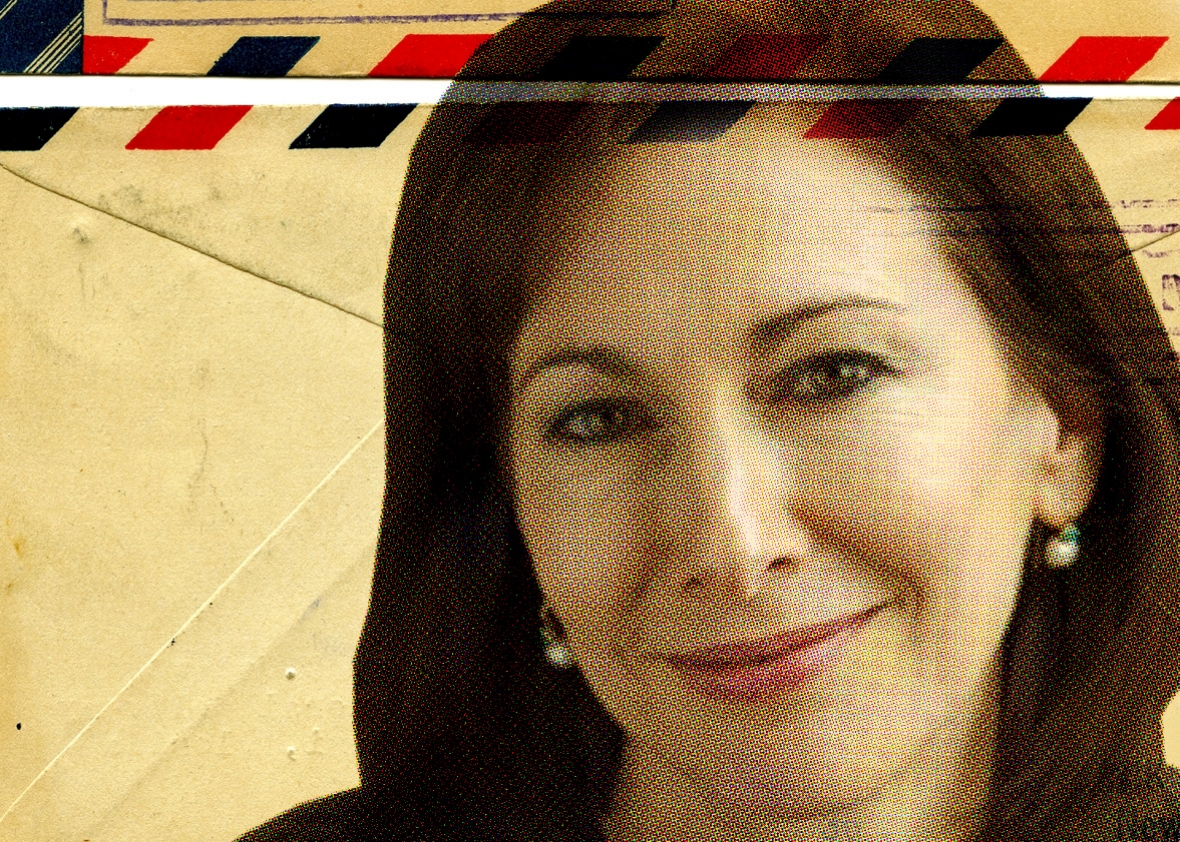 After almost a decade of thoughtful advice and witty counsel, Emily Yoffe is leaving her post as Slate's Dear Prudence. And to honor of her nine wonderful years of humor, wit, and understanding, we've asked loyal readers to share their stories of how Emily's advice helped change their lives. Below, we've published a series of follow-up letters from her avid followers and former advisees. Letters have been edited lightly for clarity.
"I wrote in a few years ago about my boyfriend's habit of chewing on his blanket. Emily's advice was well-reasoned and spot-on, and I really appreciated her taking the time to answer my silly question.
We are still together and he is still chewing on his blanket, but after reading Prudie's columns each week, I realized what a small problem this is, especially in comparison to what other people are dealing with.
Emily's kind, compassionate, and firm advice has been indispensable to me and so many others throughout her run as Prudie. I have always admired her style and her ability to be concise but not cold. Even when I disagreed with Prudie, I understood her point of view, and it was very clearly communicated. Some letters were so jaw-dropping and absurd or heart-wrenchingly sad, that I found myself wondering how I would be able to think of anything coherent to say at all.
I count myself among the hundreds of others who admit to asking ourselves "WWPD?" when faced with awkward social situations and questions of right and wrong.
Thank you, Dear Prudence!"
"In the spring of 2010, I asked Prudence for advice because my friend had insisted that I be a bridesmaid in her wedding, even though I was unemployed and could not really afford all of the expenses. Prudie cited RICO statutes and encouraged me to try to get out of this situation.
Fortunately for me, however, I landed a new job just in time and bought my very own pink dress for the big day. It was hot, miserable and tiresome, but I survived. Our friendship, not so much.
My friend lost her job three years ago and never found a new one. When I got married three months ago, I opted to have only one attendant (not the bride, whose demands sent me to Prudence.) I didn't want my attendant to feel the stress that she gave me. Since plane tickets can be expensive, my friend wore a dress she already owned. I tried my best to keep Prudie's wisdom in mind as I navigated the wonderful world of weddings. Thank you for helping me."

—Unemployed Bridesmaid
"When I wrote to Prudie in March 2008, I was engaged to be married. I wrote about my fiancé and how he didn't put much thought into gifts. For Valentine's Day that year, he bought me a card intended for one's wife (we weren't married yet) and some garlic bread. Prudie said to accept it or move on; you either marry him and breathe garlic on each other for the rest of time, or you get out.
It was funny, but it wasn't what I wanted to hear. Sometimes though, you have to truly consider the advice you sought out and listen to things you don't want to hear. Well, it didn't work out. Gifts of garlic bread was just one of many reasons that maybe we weren't suited for each other. We broke up and called off the wedding about a month before we were set to be married. It was the best decision we ever made. I moved on to marry a sweet, caring man, and we now have a beautiful, hilarious 1-year-old girl. I'll never forget Prudie's wise words, not just for me, but for all her advisees. Thanks, Prudie!"

"I am a long-time reader and one-time advice seeker who wrote to Dear Prudence about my sexually inappropriate female boss. I fired off the letter while stewing over a particularly bad day at work and didn't think much of it, so I was shocked when a few months later I discovered that I was the featured Dear Prudence video!
There had been a lot of discussion about my boss's behavior and I was sure my colleagues would recognize our situation. After a little internal debate, I decided to send the video to a close friend at work—probably not the smartest move, but I was looking for another job anyway. The video became a viral sensation among my current and former co-workers and definitely provided a little morale lift in what had become a very uncomfortable situation.
My colleagues and I got together and talked about Emily's advice but I'll confess that we never quite worked up the nerve to go talk to HR about her behavior. I got a new job not too long after that and left the situation behind me, but the Dear Prudence video continued to follow me as it got passed to new employees that were astounded by this lady's behavior. I was even contacted by a young man who was considering filing a sexual harassment complaint against her and wanted my advice. (While wearing one of her trademark tiny mini-skirts with no underwear, she'd apparently bent over his desk and displayed her nether-region to him.) She was finally called in by HR not too long after that and was fired or quit a few months later—it depends on whom you ask.
So thanks, Prudie! While I didn't quite follow your advice, writing to you about this rogue boss did turn me into a bit of a folk hero."
—Sexy Crazy Boss Lady

"Emily answered a letter from me in a November 2007 column. I wrote about my frustration with the unchivalrous cads I was running into at salsa dance lessons. Shortly after writing that letter, I met a great guy at a salsa event. We got married four months later. We've been married seven years and have a 3- year-old daughter.
I eagerly look forward to Dear Prudence each week, and was thrilled when she answered my letter. I will miss Emily's witty and insightful responses. Best of luck to Emily in her future endeavors!"
"I have written into Emily several times, and I've definitely catered my emails to her in ways that I thought might elicit a response. However, the only time I was successful in getting a response was on a subject I knew she wouldn't refuse: human refuse.
I wrote in to complain about my colleague flushing several times while going 'No. 2' in drought-stricken California. I phrased my question in a way that I knew she would chastise me for—this is not to say it wasn't an issue I dealt with—but I knew it was stupid and silly. I was just desperate to appear in her column, so I gladly sacrificed myself for this.
This is what I love about Prudie: She made me a masochist for her caustic wit! I didn't care if she was tearing me a new one—I'd have done it again! (And I tried, most recently two weeks ago.)
I will forever miss Emily Yoffe as Dear Prudence. It will never be the same!"
"I wrote Prudence to ask about an issue with my kid's school and religion. My kid was secretly being told to pray by her teacher in public school in the small Southern town where my husband and I moved. Our local friends were giving us a hard time for putting a stop to what they saw as a really positive thing—prayer in schools that are, in their mind, in moral decay.
Prudie was sympathetic to our impulse to stop the teacher from continuing by going to the principal, but she also advised us to be diplomatic and to focus on the many good aspects our Southern neighbors had to offer.
We really appreciated her sound advice. We made an effort to embrace our new social circles with an open mind and good humor about our differences, and we wound up with several amazing, warm, witty Southern friends who seem to like us even if we are Yankees. I went on to write a YA book about a Brooklyn girl who moves to the deep South her senior year of high school, and it's being published by Harlequin Teen next year—probably the best channeling of a fish-out-of-water experience ever—and it all came about because Prudie prompted us to open up more to our new community.
As far as school goes, we never found it to be a great fit for a myriad of reasons, and we eventually embraced another amazing aspect of Southern living—our flexible work schedules mean we're able to home school. My husband and I joke we're probably the only parents in the South who took their kid out of public school because there was too much praying!
We do thank Prudie for helping us make the decision with zero malice and with level heads. Instead of drawing "us vs. them" battle lines, we decided to open up a bigger conversation about experience, culture, and education, and we're really happy to be exposing our child to all kinds of religions and cultures as we home school (Christian and Southern among them)!
I actually called my husband at work today and said, "Prudie is moving on. I'm bummed." He knew exactly who I was talking about. You will be so loved and missed, Emily! Best wishes on your exciting move—we'll be following you closely!"
"Emily wrote a column a few years ago that stirred some controversy—shocking, I know!—giving advice to a relative of a young single mom who was concerned about a dog in the house. In her reply, Emily essentially said that since she had been irresponsible enough to get pregnant at her age that it was OK to wonder about her responsibility now. It wasn't mean, degrading, or even that judgmental, but as a former young single mom myself, I took offense.
I immediately shot off an email to Emily, letting her know my thoughts—mostly about how getting pregnant at a young age doesn't make one irresponsible. And about how becoming a mother can make you grow up faster than you could ever imagine before. And how any other indications of poor parenting were absent, so we shouldn't make assumptions about her. I never thought she'd read it, let alone write back!
That was the beginning of multiple emails discussing our opposing points of view. In the end, Emily actually addressed my concerns (and others' concerns, apparently) with an open mind and heart. She wrote in her column that while she couldn't advocate for young single women getting pregnant (and neither would I—it's so much easier with a partner), she agreed that we shouldn't judge this girl's parenting on the fact that she was a young mother. We should only judge her on her parenting.
Emily gave single mothers a voice—a message that slut-shaming single mothers is wrong. But she also took the time to personally correspond with me, listen to me, and treat me with compassion. What Emily did in her column was wonderful, but it truly amazed me that she was kind, direct, self-effacing, and open in person. She held herself accountable for the advice she gave, even when no one was watching."
—Outspoken Single Mom

"What can one say when saying farewell to a true class act? I have been reading the Dear Prudence column since 2006, and of all the columnists that I read, Emily is my favorite. Even though I don't know her, I feel as though she is my very wise Auntie. So many times I have asked myself, "What would Prudie say?" It might seem silly, but it truly helped and usually made me rationally deal with problems. Prudie's column and wise words have been there with me through the happiest times in my life and the worst.
I am so happy for Emily and wish her the very best, because she deserve nothing but the best. She has been a voice for things that make most people uncomfortable, and even if I didn't always agree (though I usually did), I really respected her courage. Thank you for doing that and taking the heat like a lady.
My favorite column was definitely the twin brothers that were sleeping together. Prudie's advice was spot on like always, but honestly my favorite thing was how annoyed Dan Savage became. It still brings a smile to my face. He wrote about Emily and her column, and I loved her response, which was not to respond except for a tiny little blurb acknowledging his distaste that the brothers wrote to Dear Prudence and not him.
When I think of Prudie and her column, that is what I will be remember—how Emily's respected others even when they didn't respect her. Best wishes to you, Prudie!"
"I wrote to Emily in 2010 about my estranged father's attempt to re-establish contact using my daughter as his intermediary. I did not want this contact, but individuals in my situation are bombarded with messages of the need to forgive and the importance of the connection between parents and children, so the battle with imposed guilt is constant.
Or at least it was, until I wrote to Emily.
Two years later, she contacted me about the story she was working on. I talked to her on the phone for about an hour. I don't think our conversation was particularly useful to her story—I lost the ability to communicate well after chemotherapy in 2011—but it cemented the advice she gave me in our correspondence. I have since been very much at ease with my decision to cut my parents out completely, and my life has been far better for it since.
My father died last summer, and my reaction to his death was relief that I would no longer have to look over my shoulder. I am also able now to feel sorry for the wasteland he made of his life, but I have no guilt or even a sense of unfinished business, and I owe that to Emily.
I'm not sure who is reading this, but if you would be so kind, please tell her I said, once again, Thank You."