Chicago Gabfest
How to get your tickets before anyone else.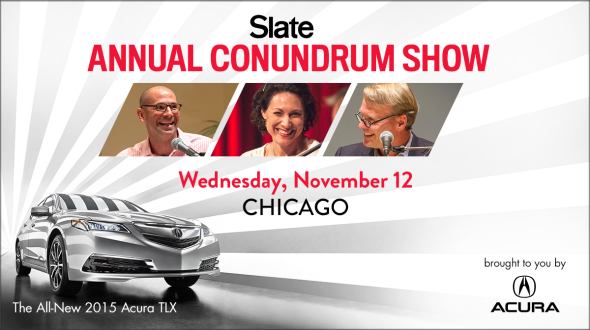 Slate Plus members! You can now access early ticket sales for the Slate Political Gabfest's annual conundrum show, live in Chicago on Nov. 12. General ticket sales will not begin until noon Eastern time on Friday, Sept. 26.
Here's how you can claim your Chicago Gabfest ticket before anyone else, and how to receive your 30 percent member discount:
Step 1. If you're a logged-in Slate Plus member, you can find your discount code in your Slate Plus dashboard on the right-side margin of this page. You'll need to view this on a desktop browser, not mobile. Just click on "Upcoming Events."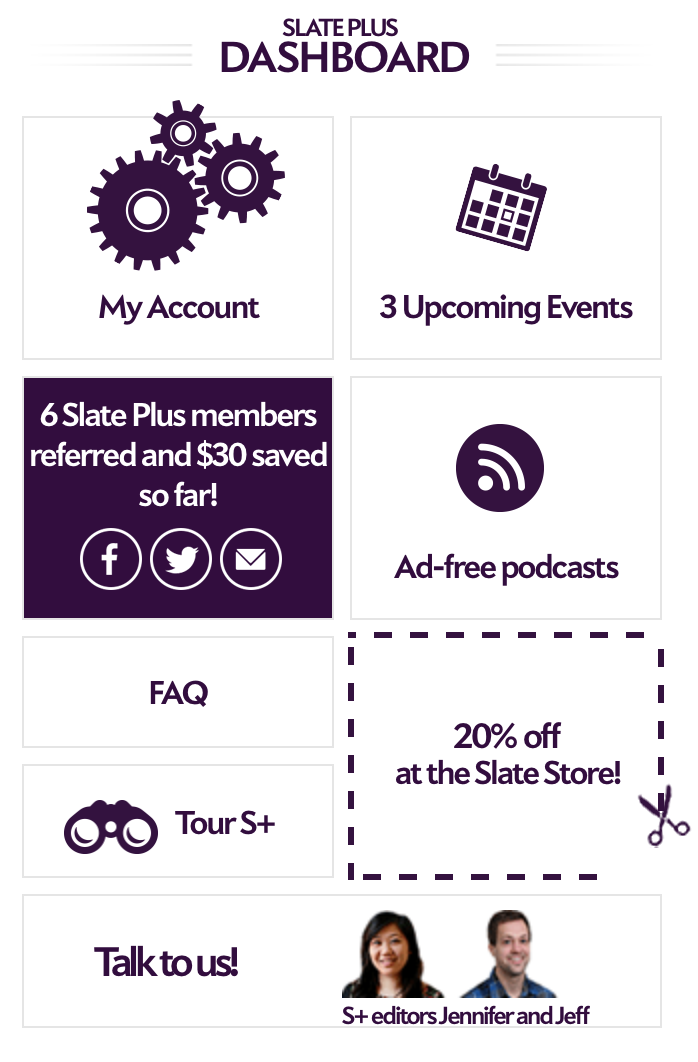 Step 2. Purchase tickets here. (Please note: Due to venue constraints, there is a limit of 4 discount tickets per Slate Plus member.)
About the Chicago Gabfest
322 West Armitage Avenue, Chicago, IL 60614
Talent: David Plotz, Emily Bazelon, and John Dickerson
Would you rather have a great job and live in a not-so-great city, or a mediocre job in an awesome city?
Would you rather fight 100 duck-sized horses or 1 horse-sized duck?
The annual Political Gabfest Conundrum show—famed for its hosts' thoughtful and hilarious consideration of tough puzzles like these—is coming to the windy city! Join David Plotz, Emily Bazelon, and John Dickerson as they discuss everything from philosophy to ethics to zoology to celebrity, taking on unusual conundrums from viewers and live audience members.
And while you're there, take advantage of the opportunity to test drive the all new Acura TLX before the event. Spin around downtown Chicago with a trained product specialist. Click here to register for your 15-minute test drive experience.