The "How Do You Punish This Company?" Bonus Segment
Emily Bazelon, Jamelle Bouie, and David Plotz discuss reprimanding Volkswagen for ethical misconduct.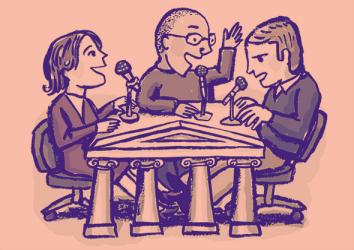 On this week's Slate Plus Political Gabfest bonus segment, Emily Bazelon, Jamelle Bouie, and David Plotz consider how to charge Volkswagen for obstructing its emission reports last month. Civil penalties may be a feasible means to chastise the company, but will VW buyers also feel the blame? Shouldn't there be policies that will prevent corporate misconduct and guarantee greater transparency in carbon regulation? The Gabfesters discuss.
Here's what the other podcasts talked about in their Slate Plus bonus segments from the past week:
On the Culture Gabfest, hosts Stephen Metcalf, Dana Stevens, and Julia Turner reflect on a live reading of the late C.K. Williams' poem "The Coffin Store."
On Hang Up and Listen, hosts Josh Levin, Mike Pesca, and guest Scott Raab chat with Longform podcast co-host Max Linsky about the successful components of long-form articles in sports journalism.