Slate Superfest East
How to get your tickets before anyone else.
Slate Plus members! You can now access early ticket sales for the Slate Superfest East, live in Brooklyn, New York, on Nov. 17. General ticket sales will not begin until noon Eastern time on Friday, Oct. 3.
Here's how you can claim your Superfest East ticket before anyone else, and how to receive your 30 percent member discount:
Step 1. If you're a logged-in Slate Plus member, you can find your discount code in your Slate Plus dashboard on the right-side margin of this page. You'll need to view this on a desktop browser, not mobile. Just click on "Upcoming Events."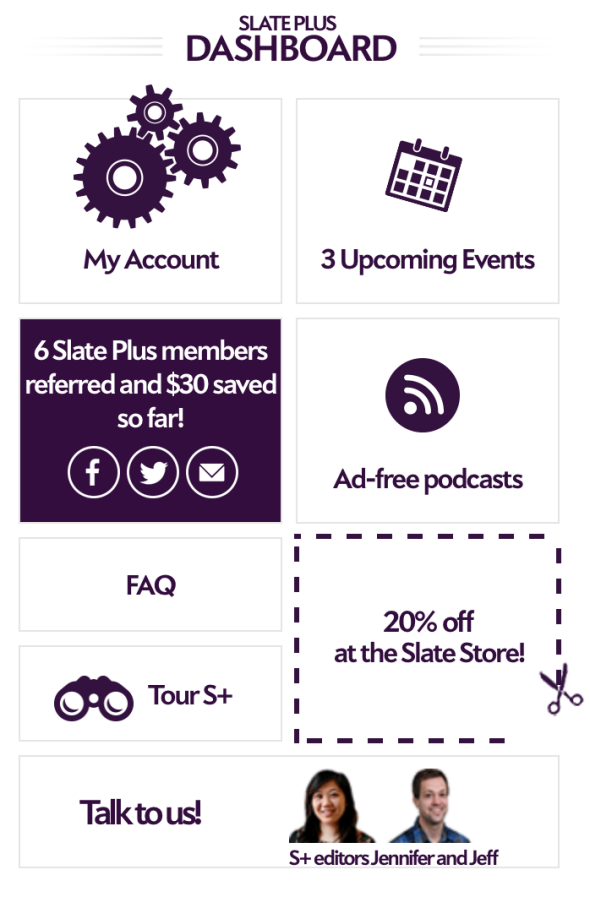 Step 2. Purchase tickets here. Click "Got an Offer Code?" to enter your Slate Plus discount code. (Please note: Due to venue constraints, there is a limit of four discount tickets per Slate Plus member.)
If you're a fan of Slate's podcasts, you can't miss our one-night-only show in New York City on Nov. 17. We're combining all of Slate's most popular personalities from the Political Gabfest, the Culture Gabfest, and Hang Up and Listen into a blowout event called Superfest East at the Music Hall of Williamsburg. See Emily Bazelon square off with Mike Pesca, Dana Stevens crack wise with John Dickerson, and David Plotz and Stephen Metcalf share a stage. This memorable evening will be hosted by our Dear Prudence advice columnist Emily Yoffe, who'll also be answering audience questions throughout the show. Superfest East will be a night to remember with the most Slate talent under one roof!
And while you're there, take advantage of the opportunity to test drive the all new Acura TLX before the event. Spin around downtown Brooklyn with a trained product specialist. Click here to register for your 15-minute test drive experience. The first 20 to sign up will receive a free ticket!