The Midterm Exam
Twenty questions for Flytrap students.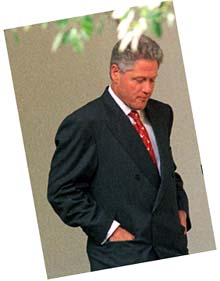 Advertisement

c) "Well, it's complicated ..."
19 According to some reports, only 40 percent of Tripp's testimony was about Flytrap. So what was the rest about?
c) Threats by White House staffers against Tripp.
d) Her secret tapes of other "friends" talking about their sex lives.
20. What gifts did Monica give Clinton?
a) The gold-and-navy tie on the front page of today's New York Times.
b) The blue tie he wore during The Speech.
c) A jack-o'-lantern pin.
TODAY IN SLATE
Politics
Talking White
Black people's disdain for "proper English" and academic achievement is a myth.
Operation Backbone
How White Boy Rick, a legendary Detroit cocaine dealer, helped the FBI uncover brazen police corruption.