The Midterm Exam
Twenty questions for Flytrap students.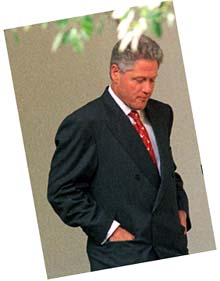 16. Clinton knew that Monica Lewinsky and Kathleen Willey were out there. So why didn't he settle the Paula Jones lawsuit rather than risk exposure?
a) Paula Jones was actually lying, and Clinton refused to cave to her blackmail.
b) Clinton assumed they would never find Willey and Lewinsky.
c) Clinton assumed they would find Willey and Lewinsky but also assumed Willey and Lewinsky would stay silent, because his women usually do.
17 The Supreme Court permitted the Jones suit in part because it would not distract the president from his job. Would the justices have let the Jones suit proceed if they had known it would produce the Flytrap circus?
18. Does Clinton really believe oral sex is not adultery?