The Midterm Exam
Twenty questions for Flytrap students.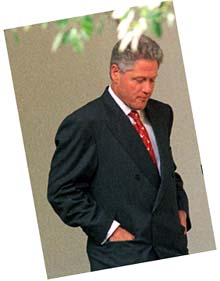 12. With whom did Clinton plot cover stories to cover up the Lewinsky affair?
a) With Betty Currie about the gifts and Monica's visits.
b) With Monica about everything.
c) With Bruce Lindsey about everything.
d) With Vernon Jordan about getting her a job.
e) Any combination of the above.
13 What is Bruce Lindsey's role in all this?
a) Knew about affair, did nothing to help or hinder it.
b) Knew about affair, helped hide it from Hillary and outsiders in harmless ways.
c) Knew about affair, helped clean it up in questionable ways (Talking Points, etc.).