The Midterm Exam
Twenty questions for Flytrap students.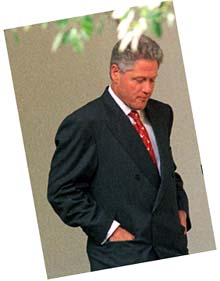 14. Will Starr subpoena the president?
a) No, Starr got enough on Monday to nail him.
b) No, Starr doesn't want to risk constitutional crisis.
c) Yes, Clinton ducked too many important questions.
d) Yes, just to annoy Clinton.
15 Starr is probably constitutionally barred from indicting the president. Whom will he indict in the Lewinsky matter?
e) William Ginsburg, just for the hell of it.