Martini Madness
The New Yorker's martini goes up against a 1½-foot-long lemon twist.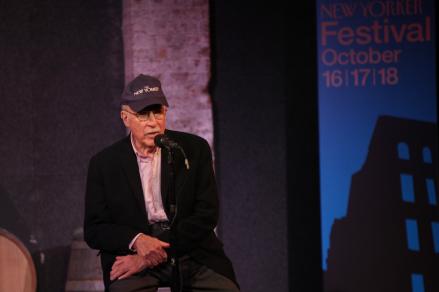 The Angell's Share vs. The Giraffe's Neck
The first of our eight reader submissions soared into our tournament on a fine gust of praise when a fan cried hosannas for Roger Angell's prose and, in the comments, pasted an excerpt from a 2002 New Yorker essay. I was familiar with the piece—and with the fact that Angell is family with the magazine—and with the fact that his stepfather, E. B. White, composed upon the martini a compact ode: "the elixir of quietude." And now I remember why I resisted including the recipe on our original list. The facts I just name-checked are deeply conjoined. The relationship between The New Yorker and the martini is intimate and intricate, and in order to explore it in full, I'd have to publish a weekly magazine.
That's all beside the point. Angell's drink is obviously not a taste sensation. I'm not going to waste gin on such a drab scheme, especially when its opponent is so brightly frisky. The recipe for the Giraffe's Neck is a reading pleasure in it its own right. The very idea of it is festively devious. This recipe came in with no name or attribution—sign your work, people!—and my deft editrix named it in the tradition of the lavishly garnished highball called the Horse's Neck, opening the possibility of further fun: Here's a gin drink abbreviated as G-N.
I'm advancing the Giraffe's Neck to the next round without even tasting it, predicting a d-limonene delight. (John McPhee wrote that d-limonene "is the main ingredient of peel oil. [It] is what the Martini drinker rubs on the rim of his glass and then drops into his drink in a twist of lemon.")
The Giraffe's Neck advances to the No. 16 spot in the Midwest Regional.