Martini Madness
In which we send an intern to order a martini at a Washington, D.C. boys' club.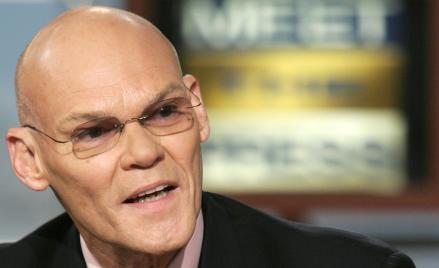 It's the Vermouth, Stupid (1) vs. The Giraffe's Neck (16)
James Carville's recipe entered the tournament as the No. 1 seed overall, having received more aggregate "upvotes" than any other recipe presented last week. Aiming to capture this martini in its native habitat, I asked Washington-based Slate intern Erin Coulehan to stop in at a notable Carville haunt. Erin, who is a graduate student in journalism at Georgetown, visited the Palm Restaurant on consecutive evenings earlier this week. Her notes from the bar follow:
Mission Martini: Round One, Monday, March 18
6:11 p.m. I order a 4:1 Bombay Sapphire martini with an olive (i.e., It's the Vermouth, Stupid).
6:13 p.m. The man next to me is drinking a martini with a lemon twist. Between sips, he tells the room he's celebrating because he's been working on "something" "major" at the office over the last few days.
6:14 p.m. The martini arrives. It's beautiful, but I'm apprehensive because I'm usually a whiskey gal. The bartender, who is named Chuck, tells me I made "an excellent choice." I wonder if he tells everyone that.
6:18 p.m. The martini man tells Chuck he'll be right back: "Vampiress No. 2 is calling."
6:21 p.m. Chuck begins giving me the history of The Palm. He tells me there are three branches in my home state of Texas, and there's no vermouth in my martini. I'm not sure if he misheard my order or decided to give me something different, but I like my drink. Nothing like a dry martini on a rainy evening.
6:28 p.m. The vampire hunter has returned. He has a name: Mark.
6:29 p.m. Mark asks Chuck the etymology of "Chuck." In his case, it's Greek and comes from "Constandino," which is also where "Dino" comes from. Mark says his father's name is Charles.
6:32 p.m. A famous golfer sits down next to me. His name is Matt, and he's wearing a U.S. Open hoodie. He starts talking to the men around him about the Titanic, the Lusitania, and other sunken ships.
6:36 p.m. A group of men drinking red wine let out a hearty laugh. I look around and recognize I'm the only woman at this bar. I feel like Joan in Mad Men.
6:41 p.m. A waiter asks the golfer a question and Mark asks him, "You want to interrupt our fucking conversation? I'm retiring in three years." The waiter asks, "Who gives a shit?" Mark replies, "I lived in China for three years; I can kill you with three fingers." He looks at me to see if I'm paying attention.
6:56 p.m. About a quarter of my drink is left. I overhear the golfer say I look like Scarlett Johansson. I'm not sure if I'm supposed to hear this or not, but I act like I don't.
6:59 p.m. Mark declares he's buying the golfer a drink but qualifies, telling Chuck, "I'm being an alpha male but won't cover this fucker's entire tab."
7:06 p.m. A wine-drinking man asks me if I think it's too early for tequila. I tell him I grew up drinking in Mexico, where it's never too early to chase tequila with an orange.
7:10 p.m. Men whisper and look in my direction. I take the last sip of my martini.
7:14 p.m. I request my tab and Chuck tells me he's going to keep me at the bar and feed me martinis.
7:20 p.m. I close out. (My total is $13.75.) The wine-drinking men offer me a shot. I decline.
Mission Martini: Round Two, Tuesday, March 19
6:31 p.m. It's less crowded than yesterday. Chuck says, "There she is! Another martini?"
6:33 p.m. I order a 2:1 Plymouth martini with a super-long twist (i.e., The Giraffe's Neck). They don't have Plymouth, so Chuck uses Hendrick's.
6:34 p.m. The drink arrives. I like it more than yesterday's, maybe because I know what to expect from a gin martini now. This one is much smoother than my first, and I like the citrus-infusion the twist adds.
6:35 p.m. A woman in a pinstriped suit is sitting next to me with an empty glass of wine. She tells Chuck she has a confession to make: What she really wants is a Bloody Mary, not wine.
6:36 p.m. Two women are sitting across from me. One doesn't drink; the other says she has to "behave" because she's going back to work. They order bread and butter.
6:43 p.m. Bloody Mary keeps shifting positions in her chair. The ladies across from me are talking about salads, which turns to talk about men, naturally. A "Jeff" is discussed at length, and apparently is friends with Mark from yesterday. I wonder if one of these ladies could be Vampiress No. 2.
6:47 p.m. The women start talking about a lawyer named Matt. He and one of the women spent $305 here at dinner the other night.
6:52 p.m. My friend Sophie arrives. Chuck tries coaxing her into a martini. She's afraid it'll be too strong and orders a Moscow mule. Chuck has one ginger beer left.
7:00 p.m. An older gentleman picks up my coat after it falls from my seat.
7:02 p.m. The waiter from last night asks Sophie and me about grad school. He says he's glad we're here. We liven up the place. People got crazy here last week, he says. I ask if he means like spring-break crazy with body shots and the like. He laughs and says "crazy" with this crowd means that ties loosen, voices grow louder, and hand gestures become exaggerated.
7:06 p.m. The women next to us are leaving. The one who was supposed to go back to work says she's going home. I wonder if she's secretly going to meet up with Jeff, Mark, or Matt.
7:10 p.m. The check arrives. Chuck says, "Come back soon!"
Nice work, Erin! Your odyssey through attitude-adjustment hour encourages me to advance the Carville recipe on the grounds that it led us to a pretty good bar.
It's the Vermouth, Stupid advances to the Round of 32 in the Midwest Regional.