Martini Madness
Reader recipes face off. (Ohioan gin vs. pastis! Walnut bitters vs. Pineau! Green Chartreuse vs. yellow Chartreuse!)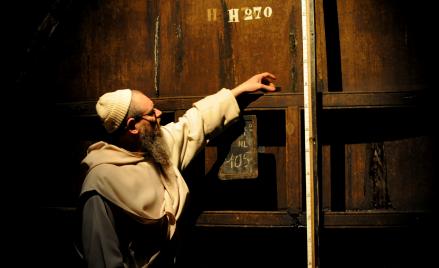 Martinez Redux vs. The Columbus
Ohio is the state with the coolest flag, arguably, and The Columbus salutes it with aplomb. We introduced reader Jonathan Barnes' submission to the tournament even though we doubted we'd be able to round up Buckeye-State-distilled hooch on relatively short notice. Our doubts were well-founded—and our unwillingness to accept any substitutions goes to the heart of why we felt this sweet martini deserved a mention. It honors local pride and the martini's capacity to express it, and so the mention is most honorable indeed. Way to go, Ohio!
In any case, it didn't stand a chance against its clear competition. In preparing this project, I became most besotted with the possibilities offered by relatively unfamiliar white vermouth. (See also The Astoria Bianco in the No. 6 spot in the East Regional.) I'll reserve my rhapsodies for the next round. For now, I will just advise those of you playing along at home to tone down the absinthe; a few dashes will probably do the trick. And also I will dearly beg the anonymous recipe writer who submitted the recipe: Please stand up! I want to buy you one of your drinks.
The Martinez Redux advances to the No. 13 spot in the West Regional.
The Martini Is In vs. The Wyatt
I would argue that the best part of drinking martinis is arguing about martinis: exchanging ideas about the aesthetics of leisure, developing a rigorous approach to talking nonsense, sparring about cocktail spears. On Twitter, I chatted with the proprietor of this adventuresome gin blog, who felt that a few of Slate's deviations from the strict martini norm were deviant indeed. And then, in a blog post, he turned his gaze inward, embarking on a quest to develop a signature martini.
I tried to repeat his results to the best of my limited ability. (He, being a gin blogger, chose a somewhat recondite brand—FEW, a barrel-aged gin named, with wonderful puckishness, after a president of the Women's Christian Temperance Union; I, being a dilettante with a limited budget, substituted Ransom Old Tom.) This martini-type thing was solid. It tasted like furniture polish in a good way.
The Wyatt, which was not half so satisfying, relies on Pineau des Charentes. What is Pineau? Pineau is delicious—a fortified wine with the flavor of a Cognac. What Pineau is not, in my experience, is a sensible thing to mix with gin. The Wyatt—like the "Pineau Martini" Rachel Maddow would like to make for alleged martini drinker Barack Obama—was less than the sum of its parts.
The Martini Is In advances to the No. 11 spot in the Midwest Regional.
The Green Wave vs. The Yellow Jacket
Chartreuse is one of those herbal liqueurs developed centuries ago in a monastery. While Carthusian monks take vows of secrecy to protect their recipes, it seems unlikely that they also take vows of poverty. Chartreuse ain't cheap.
But then I suppose that one bottle should last a lifetime. A little goes a long way. A little often goes too far, even. But the two readers who submitted Chartreuse-tinged martini variations—one green, one yellow—seem to be have a sophisticated sense of proportion. Argue amongst yourselves about whether it was immoderate of us to pit them against each other and to borrow names from NCAA mascots.
The Yellow Jacket was very pleasant. The Green Wave was, said my bartender after his straw test, "the kind of thing I'd sit and order over and over."
The Green Wave advances to the No. 16 spot in the East Regional.