Martini Madness
Bartending wunderkind Damon Boelte helps judge the Elite Eight.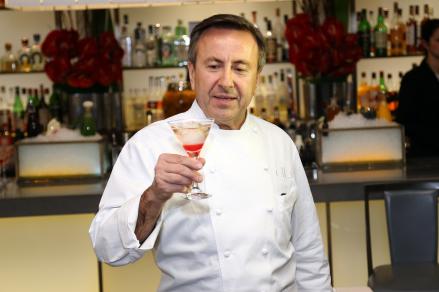 Two at the Most (5) vs. The Martinez (10)
The FDR (3) vs. M.F.K. Fisher's Gibson (9)
The Contemporary Standard (2) vs. The 1951 Martini (9)
The Nick & Nora (1) vs. The Hoffman House (11)
Guy walks into a bar. Guy gets introduced by the barkeep to another guy, who turns out to be a raconteur by the name of Damon Boelte. Guy No. 2 is a big-deal New York bartender and the host of a radio show called The Speakeasy. His story about making his first martini begins with a scene of nine-year-old Damon shoplifting a bottle of Angostura bitters from a shop back home in Oklahoma. It ends with an epigram you haven't heard the last of: "Martinis are 10 percent cocktail and 90 percent ritual."
Guy orders a Martinez. It's totally fine. But also the guy remembers the last Martinez he had, many weeks ago, a lot of gin under the bridge, back when his editrix took him out so that they could plan a martini tournament. Just after serving the previous Martinez, the bartender realized he'd forgotten to add the Maraschino liqueur, and he made another. The botched one was better. The proto-martini is, in theory and in practice, far from a perfect drink.
Guy gets sick of writing in the third person. Boelte was telling me about his "house specs" for a martini—a strict 2:1 on the ratio, a liberal approach to citrus bitters and twists. (This seemed to tilt momentum in favor of The Hoffman House, matched against Daniel Boulud's interpretation of the 3:1 martini conventionally nicknamed after Dashiell Hammett characters.) Though rhapsodic about the rather arcane Hermes orange bitters, Boelte gave his approval to Bitter Truth, which was enough for The Nick & Nora to earn a victory, especially after I received approval potentially to expense a brief trip to Daniel.
I laid on this dude my theory that the Gibson better expresses the martini's core values than does a martini with olives. "When someone orders a martini, they just fuck it up in every direction," he ventured, talking about misguided patrons mismatching bells and whistles and quoting James Bond to sound cool. "People do not fuck up their order with the Gibson."
And our fourth and final matchup? I was on my way to tend bar at a poker game with friends, and I really wanted to set up the rich and ritzy 1951 Martini against The Contemporary Standard, but the deli was out of anchovies.
Two at the Most advances to the Final Four in the Midwest Regional.
M.F.K. Fisher's Gibson advances to the Final Four in the West Regional.
The Contemporary Standard advances to the Final Four in the South Regional.
The Nick & Nora advances to the Final Four in the East Regional.