Martini Madness
Interns' (and noninterns') notes from the Slate office martini tasting.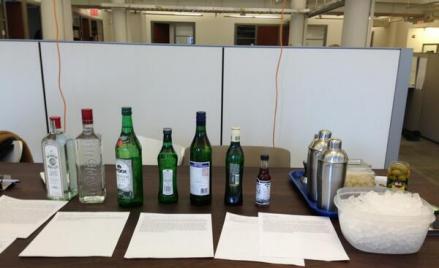 Borked Up (3) vs. "The Martini—circa 1961" (14)
The Dutch Martini (4) vs. The Gourmet (13)
The King's Gibson (8) vs. M.F.K. Fisher's Gibson (9)
The Bernard DeVoto (2) vs. The Garbo (15)
The Contemporary Standard (2) vs. Sheila Lukins' Martini (15)
The Astoria Bianco (6) vs. The Hoffman House (11)
The Creative Commons (3) vs. The Four Seasons Classic (14)
The Walter D. K. Gibson (5) vs. The Roger Sterling Silver Bullet (12)
Unwilling to attempt the metabolisis of a lagoon of gin in the time allotted for the Round of 64, I asked the editrix to put Slate's interns to work mixing martinis and taxing their livers. (Several noninterns volunteered to participate, too.) Our correspondence follows:

To: Troy Patterson
From: Laura Anderson
Subject: Interntinis
Please see below for interns', former interns', and noninterns' notes from martini tasting in Slate's New York office today. We used Bombay Original as our standard gin and Martini & Rossi Extra-dry as our standard vermouth when a brand wasn't specified.
A couple of caveats: We couldn't find Bellringer gin for the Bernard DeVoto in any of the liquor stores near the office, so we used Beefeater for that and its direct competitor, the Garbo. Also, since the office kitchen has no freezer, we were unable to create a custom icy glass for the King's Gibson and so merely served it on the rocks. (I have no doubt much nuance was lost.)
Tasters' Titles and Martini Backgrounds
Laura Anderson, assistant editor: "The vast majority of the martinis I've drunk in my life, I've drunk while editing Martini Madness over the past few weeks. My most significant martini experience prior to this tournament was the time I ordered a dirty martini at a dive bar in Chinatown while waiting for a date to arrive, reading East of Eden, and pining for a different man from the one I was about to meet."
Jeffrey Bloomer, SlateV blogger/editor: "I started drinking martinis when I was of legal age, after wandering into one of the better-stocked neighborhood restaurants on campus. I went through all the classics and the variations on Thursday afternoons for the next year. Now I usually get Hendrick's with a twist."
Byron Boneparth, editorial intern: "Byron has been a devoted martini drinker for several years. He is in the 'gin maximalist' school of martinis but is ultimately 'flexible.' "
Katherine Goldstein, innovations editor: "I never drink martinis because I think they are too strong."
Alex Heimbach, editorial intern: "I had never had a martini before today, but I have had some unfortunate gin experiences."
Jennifer Lai, social media intern: "I do like the 'martinis' I've had in the past, but they've been the sweet-almost-cloying type. My experience is very limited."
Sarah Trankle, executive assistant to chairman Jacob Weisberg: "I don't know much about the drink, but I've had the occasional dry martini while pretending to be cool in my new neighborhood in Brooklyn."
Borked Up
Goldstein: "Plain but pleasing."
Oremus: "Drools where it should bite."
Lai: "Gin-heavy, but not astringent. Feels like it would 'get the job done.' "
"The Martini—circa 1961"
Heimbach: "Nice juniper finish."
Bloomer: "Dense and blunt. The flavor profile is kind of flat. I am not a vermouth apologist, but a teaspoon isn't enough to wed with this gin."
Boneparth: "Something is wrong. Maybe '62 was a better year for gin."
The Contemporary Standard
Bloomer: "Light, almost spring-y, floral."
Goldstein: "Spicy, cinnamony, lots of depth and flavor."
Heimbach: "Smooth but not strongly citrusy. Bright and clean, complex floral flavors."
Lowder: "Very spirited, but perhaps not a martini. Diluted Lemon Fanta?"
Stevenson: "Cannot go wrong with this. Crisp. Delicious. Would never turn it down."
Sheila Lukins' Martini
Bloomer: "I don't mind this."
Heimbach: "Refreshing and a little sweet. Pleasant but simple."
Lai: "Mild and somewhat lemony, with savory undertones. Slightly unpleasant aftertaste."
The Bernard DeVoto
Anderson: "Very cold."
Bloomer: "Charmingly overwrought directions! I really enjoy this method, and it yielded a beautiful drink, perfectly chilled and concentrated. My complaint is with the vermouth, which has a velvety heaviness that kept distracting me. But there will be more buckets of ice in my future."
Boneparth: "Very cold. Otherwise meh."
Heimbach: "Clean, citrusy, cold but not watery."
Lowder: "Sassy! The vermouth is a total diva here with her aggressive and mildly sad bouquet. I'm reminded of the play The End of the Rainbow where Judy Garland falls out on pills and booze. It's arresting, tawdry and gently regrettable. Also it made me feel cute."
The Garbo
Anderson: "Refreshing."
Heimbach: "Has a nice kick."
Boneparth: "This might be the epitome of an ultradry martini."
Lowder: "Like bees dancing across my tongue, after they've pollinated a flower soaked in some kind of abused prescription sedative."
The King's Gibson
Anderson: "Good, sharp, spicy, hot, but not explicitly oniony. One-dimensional compared to the M.F.K. Fisher."
Goldstein: "Surprisingly drinkable."
Lowder: "A thoughtless chuckle while grilling pimentón-rubbed pork chops."
Oremus: "Tastes like gin to me."
Anderson: "Love it! Sweet, sour, smooth. Can't stop snacking on the onions on the side."
Bloomer: "A sweet, zesty edge, like Thousand Island onion-ring sauce."
Boneparth: "Tastes like a Big Mac."
Goldstein: "I want to be friends with this drink."
Lai: "Kind of like an everything bagel, with extra onions."
Oremus: "Like slurping up the juice left behind by a grilled-onion burger with special sauce."
Trankle: "Reminded me of the last few onions on a plate of onion rings—still tastes great but is almost too much. I wouldn't be able to drink more than one of these. "
The Creative Commons
Bloomer: "A nice showcase for the gin, with a gentle, balanced undertow of citrus. Very clean."
Lai: "There's something so wonderful about the fresh, lemony, sweet-smelling nature of this drink. Pleasant from start to finish."
Trankle: "Not very exciting, but I could drink this regularly, unlike a lot of the other martinis I tried ... "
The Gourmet
Goldstein: "Astringent with olive overtones. Not cut with enough softness."
Heimbach: "Boring. Tastes like watery gin. Flavors aren't complex."
Trankle: "I wanted to spit it out but didn't think that was proper at our tasting."
To: Laura Anderson
From: Troy Patterson
Subject: Re: Interntinis
Don't worry about having deviated from the most correct interpretation of the Kingsley Amis recipe. M.F.K. Fisher's Gibson would have won that contest under any circumstances, and anyway we did Amis a favor in using liquor that a noncheapskate might purchase for home consumption; in translating his remarks on the martini into a recipe, I politely ignored his suggestion of serving Booth's—a brand typically found on the bottom shelf alongside Fleischmann's and Five O'Clock Gin—to guests.
As for the other head-to-head matchups nodded toward above: It seems clear that the Contemporary Standard earned a victory over Sheila Lukins' Martini and that there was less lack of enthusiasm for the Borked Up than for the "The Martini—circa 1961." It also should be obvious that I am pulling rank when advancing the Bernard DeVoto over The Garbo, the tasters' enthusiasm for which generally bespeaks the naïve passion of novice cocktailians.
The Gourmet flunks, and the Creative Commons passes. (Arriving at the latter verdict, I am moved not only by the popular ardor for its crispness but also by a private anxiety regarding the budget for this project; I am keen to obviate the need for an expense-account-shattering visit to the Four Seasons.) And while we're on the subject of relatively traditional recipes, let's advance The Hoffman House and the Roger Sterling Silver Bullet to the next round. I've already made my points about the copious charms of the former's competitor (The Astoria Bianco, which, like the Martinez Redux, relies on a sweet white vermouth), and I'll need to excavate some repressed memories before discussing my last run-in with the powerfully degrading power-lunch ilk of the Roger Sterling Silver Bullet (that's "last" meaning "most recent" and also "last" meaning "no way ever again.")
Borked Up and The Dutch Martini advance to the Round of 32 in the Midwest Regional.
M.F.K. Fisher's Gibson and The Bernard DeVoto advance to the Round of 32 in the West Regional.
The Roger Sterling Silver Bullet and The Contemporary Standard advance to the Round of 32 in the South Regional.
The Hoffman House and The Creative Commons advance to the Round of 32 in the East Regional.