Martini Madness: The Bracket
Your complete guide to Slate's martini tournament.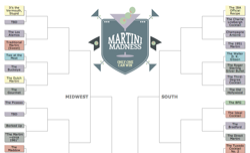 Slate's Drink department presented its Official Martini Madness Bracket on March 20, 2013, following a round of reader voting to determine tournament seeding. Martini Madness concluded with a Final Four live-blog on April 8, 2013, and the victory of a recipe first published by M.F.K. Fisher. Click here to begin a series of essays on the history of the martini and here to enter the archive of tournament play. On the bracket below, click on a recipe name to see the full recipe. —Troy Patterson


Midwest
South
West
East
TODAY IN SLATE
The Slatest
Ben Bradlee Dead at 93
The legendary Washington Post editor presided over the paper's Watergate coverage.