Presidency in a Lockbox 
Our complete election and recount coverage.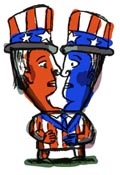 Advertisement

Wednesday, Nov. 8
Frame Game: "Burnt Toast," by William Saletan

TODAY IN SLATE
Politics
Talking White
Black people's disdain for "proper English" and academic achievement is a myth.
Operation Backbone
How White Boy Rick, a legendary Detroit cocaine dealer, helped the FBI uncover brazen police corruption.