A John Roberts Roundup
The latest information on the Supreme Court nominee.
Updated Monday, Sept. 19, 2005, at 5:52 PM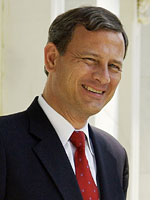 Slate gathers the Web's best articles and resources on John G. Roberts Jr., President Bush's nominee for the Supreme Court. This space is updated regularly, with the newest pieces appearing at the top of each section.
Profiles of John G. Roberts Jr.
MYSLATE
Bidisha Banerjee is the San Francisco-based co-author of a forthcoming Yale Climate and Energy Institute/Centre for International Governance Innovation report on scenario planning for solar radiation management. She is collaborating on a geoengineering game and has written about geoengineering governance for Slate and the Stanford Journal of Law, Science, and Policy.

Torie Bosch is the editor of Future Tense, a project from Slate, the New America Foundation, and Arizona State that covers emerging technologies and their implications for society and policy.
Laurel Wamsley, a former Slate intern, is a writer living in Washington, D.C.