A John Roberts Roundup
The latest information on the Supreme Court nominee.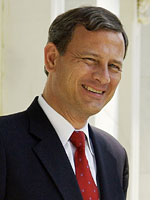 Advertisement

"Mr. Justice Junior: The new Supreme Court nominee has the same name as his father and his son. Is that a problem?" by Timothy Noah, Slate. July 20, 2005.
TODAY IN SLATE
Jurisprudence
Scalia's Liberal Streak
The conservative justice's most brilliant—and surprisingly progressive—moments on the bench.