A John Roberts Roundup
The latest information on the Supreme Court nominee.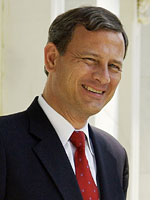 "Answer the Question, Judge!: Scalia explains why Roberts should speak freely at his confirmation hearings," by Emily Bazelon, Slate. July 26, 2005.
"Roberts Reviewed: A Breakfast Table discussion," by Viet Dinh, Dahlia Lithwick, and Cliff Sloan, Slate. July 20-22, 2005.