A John Roberts Roundup
The latest information on the Supreme Court nominee.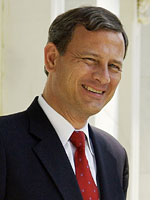 Advertisement

"Looking Back," a chart on how previous nominees have fared, Washington Post.
Reactions to the Nomination
TODAY IN SLATE
Politics
Smash and Grab
Will competitive Senate contests in Kansas and South Dakota lead to more late-breaking races in future elections?