A John Roberts Roundup
The latest information on the Supreme Court nominee.
Updated Monday, Sept. 19, 2005, at 5:52 PM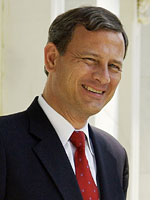 Senate Confirmation Speculation
"Recusal Questions for Roberts: Two Senators ask about participation in military tribunal case," by Jess Bravin, Wall Street Journal. Aug. 26, 2005.
"Catholic Justice: Quit tiptoeing around John Roberts' faith," by Christopher Hitchens,Slate. Aug. 1, 2005.
MYSLATE
Bidisha Banerjee is the San Francisco-based co-author of a forthcoming Yale Climate and Energy Institute/Centre for International Governance Innovation report on scenario planning for solar radiation management. She is collaborating on a geoengineering game and has written about geoengineering governance for Slate and the Stanford Journal of Law, Science, and Policy.

Torie Bosch is the editor of Future Tense, a project from Slate, the New America Foundation, and Arizona State that covers emerging technologies and their implications for society and policy.
Laurel Wamsley, a former Slate intern, is a writer living in Washington, D.C.