A John Roberts Roundup
The latest information on the Supreme Court nominee.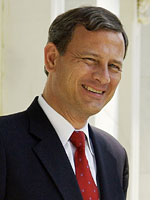 Senate Confirmation Speculation
"Recusal Questions for Roberts: Two Senators ask about participation in military tribunal case," by Jess Bravin, Wall Street Journal. Aug. 26, 2005.
"Catholic Justice: Quit tiptoeing around John Roberts' faith," by Christopher Hitchens,Slate. Aug. 1, 2005.