A John Roberts Roundup
The latest information on the Supreme Court nominee.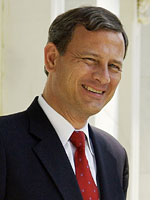 "Strictly Judicious: Are strict constructionists anti-civil rights?" by Peter Kirsanow, National Review. Aug. 16, 2005.
Advertisement

TODAY IN SLATE
Politics
The Democrats' War at Home
How can the president's party defend itself from the president's foreign policy blunders?