A John Roberts Roundup
The latest information on the Supreme Court nominee.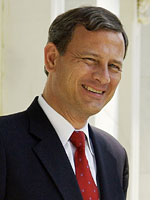 Transcript of Senate Judiciary Committee confirmation hearing, April 30, 2003.
Advertisement

Hedgepeth v. WMATA: a case involving a 12-year-old girl arrested for eating a french fry in a Washington Metro station, Oct. 26, 2004.
TODAY IN SLATE
Technocracy
Forget Oculus Rift
This $25 cardboard box turns your phone into an incredibly fun virtual reality experience.