Trump to Obama: You're Fired!
The president and the billionaire square off in our latest video game fight.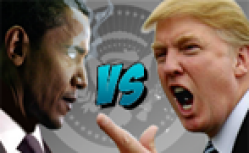 Republican presidential nominee Mitt Romney heads into his first debate with President Obama having been tested by a series of fights within his own party. Obama had no primary challenge, but he has absorbed his share of shots this campaign. In the latest episode of our Political Kombat '12, we pit the president against one of his most relentless antagonists, Donald Trump.
In Episode 1, Romney faced off against Rick Santorum and Herman Cain. The second segment featured an intraparty fight between Romney and Newt Gingrich and Ron Paul. And in the coming weeks, we'll stage a fight between Joe Biden and Paul Ryan as a prelude to the final showdown between Romney and Obama. Stay tuned.