The Battle Royale: Obama vs. Romney
The president and his Republican challenger fight to the finish.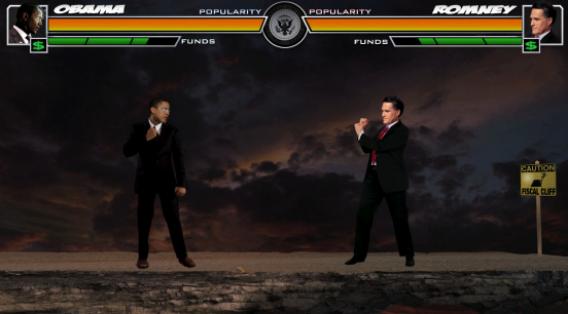 Less than week before Election Day, the outcome is by almost all accounts too close to call. As President Obama and Mitt Romney make their closing arguments, Slate V rolls out the final episode of Political Kombat '12, which recounts the story of the campaign as a series of videogame fights.
In the finale, President Obama goes head to head with Romney, and there's a twist: You get to choose the outcome.
In Episode 1, Romney faces off against Rick Santorum and Herman Cain. Episode 2 features Romney in a pitched battle against Newt Gingrich and Ron Paul. The third segment imagines a fight between President Obama and Donald Trump. And Episode 4 pits Paul Ryan against Joe Biden.
TODAY IN SLATE
Politics
Blacks Don't Have a Corporal Punishment Problem
Americans do. But when blacks exhibit the same behaviors as others, it becomes part of a greater black pathology.
Lifetime Didn't Think the Steubenville Rape Case Was Dramatic Enough
So they added a little self-immolation.