Romney's Road Kill
The GOP presidential nomination contest staged as a video game fight.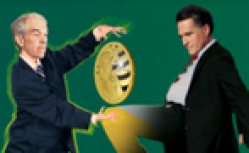 On the road to the Republican presidential nomination, Mitt Romney ran up quite a body count, from Rick Perry and Michele Bachmann to Ron Paul and Rick Santorum. Now as the former Massachusetts governor gears up for his first debate with President Obama, Slate V is rolling out Political Kombat '12, which recounts the story of the campaign as a series of video game fights.

In the latest episode, we pit Romney against Newt Gingrich and Ron Paul.

In Episode 1, Romney faces off against Santorum and Herman Cain. Episode 3 imagines a fight between Obama and Donald Trump. And in the coming weeks, we'll stage a fight between Joe Biden and Paul Ryan as a prelude to a battle royale between Romney and Obama. Stay tuned.