Introducing Political Kombat '12
The presidential campaign told as a series of video game fights.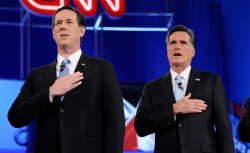 With the first presidential debate just days away, Slate V is unveiling its latest campaign series. "Political Kombat '12" recounts the story of the 2012 presidential race in a succession of animated video game fights.

In the opening episode, we go back to the Republican primaries and pit Mitt Romney against GOP rivals Rick Santorum and Herman Cain.
In Episode 2, Romney does battle with Newt Gingrich and Ron Paul. Episode 3 imagines a fight between President Obama and Donald Trump. And in the coming weeks, we'll stage a fight between Joe Biden and Paul Ryan as a prelude to a battle royale between Romney and Obama. Stay tuned.