How Does a Realtor Work?
Read what L.V. Anderson asked realtor Vanessa Pollock about buying and selling homes—from the broker open house to a final offer.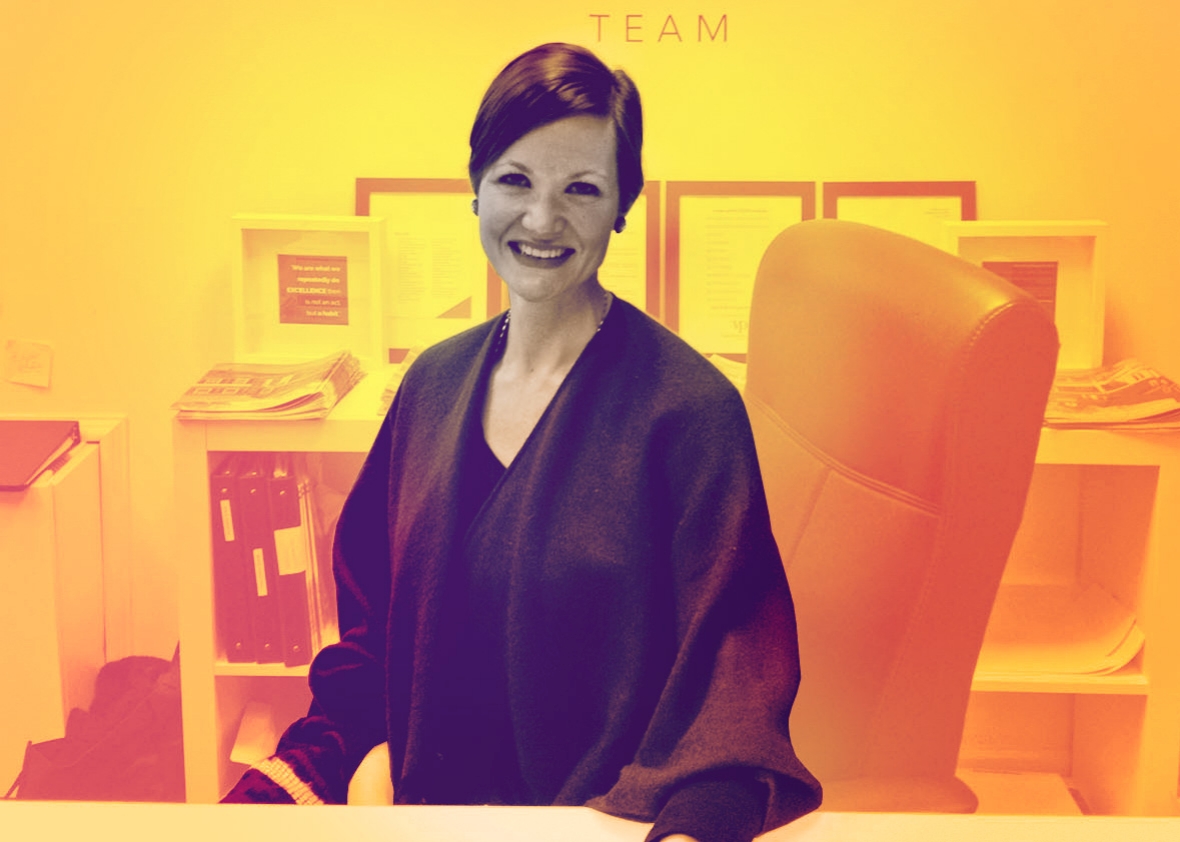 We're posting transcripts of Working, Slate's podcast about what people do all day, exclusively for Slate Plus members. What follows is the transcript for Season 5, Episode 6.
In this episode of Working, Slate's L.V. Anderson talks to Vanessa Pollock, a realtor for Keller Williams Midtown Direct Realty in northern New Jersey. Pollock discusses the drawbacks and benefits of real-estate school, her friendly competitiveness with other agents in the area, and how she endeavors to get top dollar on the sale of her clients' homes. Also, she talks about the upfront costs of running her business and how she's able to give back to the community through her organization, Closing for a Cause.
In a Slate Plus extra, Pollock reflects on how her life as a dancer has helped her in real estate and how she manages a work-life balance.
Laura Anderson: Welcome to Working, Slate's podcast about what people do all day. I'm Laura Anderson, a writer and editor for Slate.
On today's episode, we're talking with someone who helps people make one of the biggest transitions of their lives.
What's your name, and what do you do?
Vanessa Pollock: My name is Vanessa Pollock, and I am a realtor with Keller Williams. I have a real estate team in northern New Jersey.
Anderson: What is the licensing process like for real estate brokers?
Pollock: It's different in every state, but in New Jersey, there are lots of options. You can pull off the Band-Aid really quickly and go to real-estate school over the course of three weeks, take that school test, and, assuming you pass that, go take your state test. Then once you pass that, the state will fingerprint you and issue you your license that you then immediately have to put within a New Jersey brokerage. It can't just float around; you have to pick a broker to be affiliated with.
Anderson: OK. Someone who's already established—they can't just immediately spin off and start your own business?
Pollock: To start your own business, you actually have to be a broker, meaning that you have to then take the next licensing class to get your broker's license. You're only allowed to do that if you have three years as a full-time agent.
Anderson: What kind of things do you learn in real-estate school or classes, and do you actually use them on a regular basis?
Pollock: As people join the team, and I'm sending them to get their license, I say, pay attention, pass the test, and then forget everything you just learned. The majority of things that are in that licensing process that people learn are not what's going to translate into your everyday work as a realtor in the area.
But they do spend a lot of time—and this part is very valuable—reviewing what your fiduciary duty is to your client and what your relationship to the client is—whether you're a seller's agent, a buyer's agent, or a dual agent. They will spend a lot of time going over that, so that agents really understand what their role is in a real-estate transaction and are sure that they're giving the appropriate service, based on who they represent.
Anderson: Are you a dual agent?
Pollock: So yes, if both parties in the purchase or sale of a home are represented by two agents under the umbrella of the same brokerage—so for me, it's Keller Williams Midtown Direct in Maplewood, New Jersey. If both agents are under the umbrella of that office, then both agents are considered dual agents.
Anderson: OK, I see. But that's separate from being someone who represents both buyers and sellers in different situations.
Pollock: Yeah. After being a rental agent, I was an assistant for a while. When I broke off on my own, I really knew that my early career needed to be focused on buyers. It's very hard to convince a seller to allow you to represent and market their home when you've never sold a house before. So, you really want to find your footing as a buyer's agent. So, I spent the first four or five years really focusing on being a buyer's agent.
Then I started to have credibility, and some of the people I had sold homes to came back to me and said, Hey, turns out we have to move out of state, or we need a bigger home—would you list our home, and we'd like to buy a house with you, as well? So, at that point, I was representing both buyers and sellers.
In the last few years, as I've grown my real estate team now, I solely focus on sellers.
Anderson: So, does that mean that you prefer working with sellers, rather than buyers, or is that just sort of how it worked out as you were building your team?
Pollock: Honestly, I love working with both sellers and with buyers. It's a very different psychology. What's interesting is, when you're working with a buyer, you can cast a vision for a future life in a home, and they dream about the children and the life that they're going to have there. It's filled with excitement and anticipation.
When you're working with a seller, even when it's the best-case scenario—like selling their house to go buy their dream house on their dream block next to their best friend—it doesn't get any better than where they're moving to. But they're still leaving behind a home filled with memories, so there's a lot of emotion wrapped up in that. As agents, we really have to think of ourselves sometimes as counselors and as advisers.
People joke that I should have psychologist on my card because I really have to help walk people through that process.
Anderson: Let's start with selling, since that's what you're doing now. What are some of the biggest obstacles and challenges that sellers face? Does it have to do with setting a price or scheduling open houses, or are there any points of conflict that you often face there?
Pollock: Often, sellers have a difficult time thinking of their home as a product or as a commodity. They have so many memories in the home. They have it decorated the way they love it. They have their family photos up the way they like it. And it can be difficult to transition into thinking of their home as something that needs to look like a catalog.
The way homes are represented and presented to the buying public is to make them look like all of the online sites that we go to. So, I need my listings to look like Restoration Hardware, Pottery Barn, or West Elm. Helping a seller transition psychologically about their home and not take it personally that we need to move the furniture around, that we need to change the window treatments, and that we need to remove their art and put in different art—that can be difficult.
I'm fortunate to work with a stager that I bring in on all of my homes who actually has a degree in social work. She just has this huge heart for people, and she understands that it's going to be a difficult process to go from thinking of this as someone's home into thinking of it as a product we have to sell. I'm not going to take it personally when I'm told to repaint these rooms and make a lot of design changes in order to get top dollar.
Anderson: When you are pricing a home, do you have a calculation in which you're taking into consideration different attributes of a home, or is it more of a gut thing where you just know because other homes have sold for a certain amount? You can probably price this home for that amount, too, right?
Pollock: It's a combination of both, because I'm very data-driven in pricing. I need to look at the homes that have sold in the last 90 days to six months and see what sold in the neighborhood with the same number of bedrooms and bathrooms. Then, I go through and compare kitchens, bathrooms, renovations, and different attributes of the homes that have sold to what this home has.
Then I also have to have my finger on the pulse of the current market. I have to know if homes that are coming on the market right now are all getting six offers, nine offers, 12 offers. We can actually use that data as a baseline for pricing, but we can go up 3 percent, 5 percent above that, based on what's currently happening in the market.
I have three buyer's agents on my team, and we sit down for weekly team meetings and talk through the market. I feel like that helps them understand what's coming on the market and me to understand how the buyers are reacting to things and what the buyer's threshold is for pricing. Then I can go back to the seller and say, OK, if I look at the data, the average of the comparable homes that have sold in the last 90 days means that we should price it at $600,000, but my buyer's agents are indicating that every single home that they've made an offer on in the last two weeks with clients has gone for 10 percent over the asking price.
Instead of $600, let's list you at $629. If the market's going to take you higher, it will still take you higher, but I don't want to leave any dollars on the table for you, and I think the market can bear it.
Anderson: Is there a danger in pricing a home too high?
Pollock: Oh, that's one of the biggest dangers. That's where you have to find the sweet spot, because if you price a home too high in our market, people aren't lowballing. Buyers don't come in and offer below the list price. They just assume you want that price or higher, because the majority of our homes are getting multiple offers right now. So, you have to be really careful.
I tell people, if we've priced it right, you're going to sell between 99 and 103 percent of your list price, because if we overprice, then the next move we're making in three to four weeks is dropping the price by $40 to $50,000 to move it into a new price point—a whole new category. At that point, we've lost our marketing momentum, and you really want to capture the attention of the market in the first weekend you're on the market.
Anderson: So, after you've set a price and staged the home, is the next step scheduling an open house?
Pollock: Yeah. We use a lot of task-management software and all kinds of things to be sure that we roll out our marketing plan in a very calculated and deliberate way. So, once we've staged the house, we bring in our photographer. We have a professional photographer that I've worked with for years and years, and his team is amazing. This next year, we're actually rolling out 3-D imaging with him, where we'll have 3-D floor plans from your computer. You can feel like you've dropped into each room, and you're walking through the house.
Then we create a brochure that looks like a magazine. People get catalogs in the mail, and they want to buy something that looks like those. So, once we've got photography, we need a week to 10 days to process the photos, the 3-D imaging, and get the brochures designed, ordered, and returned. What we will have already done is have created a timeline from photography to the day that the doors open. And we'll schedule our very first moment—our broker open house.
I believe that the broker open house is the most important marketing tool, because we want the agents in the area to be able to come preview the house so that they know which of their clients the house is right for, and they can invite them to come and see it over the weekend. We'll very deliberately have our broker open house on a Thursday morning, begin showings for all of Thursday, Friday, Saturday, and a public open house, then, on Sunday afternoon. Ideally, if everyone's done their part, we'll be reviewing offers by Tuesday or Wednesday.
Anderson: With the brokers' open house, you're inviting other brokers with other companies to come in. Is that a common industry practice, to have brokers' open houses before you have a public open house?
Pollock: Absolutely. Most agents are going to have a broker open house to cast the widest net possible, to bring in as many agents and as many buyers as they possibly can.
Every now and then, an agent will choose to have what's called an exclusive listing, and they won't necessarily open it up to the entire industry; they'll just open it up to their office, and maybe they'll have a private broker open house just for their office. I shy away from that, unless the seller doesn't want to be exposed to the Internet, and they don't want all of their business out across the World Wide Web. Then we can keep it in-house like that. But I really feel like it's important to cast that huge, huge net, and bring them in as many buyers as possible, so that they have more than one offer to review.
Anderson: Do you have a friendly relationship with other brokers in the area, or is it kind of competitive?
Pollock: This is an incredibly competitive industry, but it's been a real goal of mine over the last 10 years to be in good relationship with my colleagues. I want all of the agents in this community to say, if it's Vanessa's listing, I know it's going to be a fair, ethical, honest transaction that's going to be successful for all of our clients, and we're going to get to the closing table—which is what all the clients want.
So, it's been a very important part of my mission to be in good relationship with the agents in my community, so that they all want to show my listings, and they all want to sell my houses, so that it, in turn yields the best results for my clients and for my sellers.
Anderson: When you say "unethical behavior" or "unethical sort of business practices," what sort of specific things are you talking about? What are ways that some brokers could act unethically?
Pollock: So, here's an example. When I list a home, it goes on the Garden State Multiple Listing Service—the MLS, as it's known. The MLS has a rule: If a seller signs a listing agreement with me to list their home on the MLS, that listing has to go live within 24 hours. Well, a lot of agents will have clients sign the listing agreement and not date it. They'll have clients sign the listing agreement and postdate it for the date that they want it to come on the market. And that's a little—
Anderson: Why do they resist posting it as soon as they have the signature?
Pollock: Right. Well, we would never list a home that it doesn't have the full marketing plan ready to roll out.
Pollock: So, the sellers want to have a written agreement with you that they're moving forward with you, but the MLS wants to know that as soon as that listing is obtained, that it's available for all agents to see it. So, everybody has their different way around that. Some people just don't have them sign anything until the end. Like I said, some people—they have them sign it, and maybe don't tell them that it's supposed to be dated and live within 24 hours.
What I've done is, I've created a document that's just called the intent to list. And it actually says on our intent to list that it's not a legally binding document; it's just a written handshake that the seller and I are going to move forward with each other in good faith, because I'm going to start spending a lot of time and money preparing their home to come on the market, and they're relying on me to start building the marketing plan to best represent their home.
Then we literally send them the MLS agreement the day their house is coming on the market or 24 hours in advance of that for them to sign electronically. So, it's dated exactly the same date as the beginning of the listing agreement.
Anderson: What are sellers looking for in a broker? Are they looking for someone they feel comfortable with and who they can talk to, or do you think they're looking for something more specific? Or does it totally depend?
Pollock: It completely depends on the personality. I do a lot of studying on different personality types. When I hire people, I give them personality assessments, because I want to know how they're wired, and what's most important and meaningful for them. I wish I could give those personality assessments to my clients, so that I would know exactly what's most important for them. I try to dig in and find out—are they data-driven? Are they communication-driven?
There's just different personality attributes that come up. So the listing packet that I put together and I present to people ahead of time, I try to have it communicate information in four very different ways, so that no matter what personality type I'm encountering, they've gotten the information they need ahead of time, in the way that they can digest it.
Anderson: When you're showing the house, how quickly do you usually start getting offers from potential buyers?
Pollock: Each home is going to have a different reaction. Sometimes, I think this one may take a couple of weeks, because it's specific. Maybe it's on a golf course. But you can get a pretty clear indication of whether it's the hot property of the weekend or not by mid- to late-Saturday. Agents will have been showing a home Friday and a lot on Saturday. And the phone will start to light up Saturday afternoon with inquiries from agents like, Hey, my client has some questions; can I email them to you, and get them back to me? Hey, my client is making an offer; how many do you have on the table so far?
I've even had agents walk out of the broker open house, and as they're leaving—they haven't even shown the house yet—they'll turn to us and say, How are you handling offers after the weekend? They just want instructions from the very beginning. So, I would say midway through the weekend, if you have heard nothing—if it's just crickets—then what we'll be doing on Monday morning is gather feedback from every single agent who showed the house over the weekend, try to ascertain why it didn't sell weekend one, and then make any necessary adjustments.
Anderson: What are some reasons that other agents will give you? Is it usually related to the price, or is it more like the sort of quirky aspects that you're talking about, like being on the golf course?
Pollock: I know that if a house doesn't sell weekend one, then it probably is priced too high. So, agents don't necessarily give that feedback, but they will say, my clients didn't like the layout. They didn't like the location of the bathroom. They thought the yard was too small—things like that. Sometimes, there are staging things that we can change. Sometimes, it's just where the house is located in the town. There's nothing we can do about that.
So, if we get consistent feedback that it's things that we can't change about the condition or location, then we know that the only adjustment we can make is to the price.
Anderson: How do you know when you have gotten enough offers that you are ready to start thinking about accepting one, and what are the factors that go into whether you want to accept an offer? Obviously, price is a big one, but are there other ones that I wouldn't think of?
Pollock: Yeah, absolutely. I want to be sure that the house is fully exposed to as many buyers as possible.
So, what a lot of agents will do is, they'll start showings on a Thursday, an offer will come in on Friday; they'll look at it, accept it, and shut it down. I want a house to be shown all weekend long. So, when an agent calls me on Friday and says, my clients want to make an offer, I say, fantastic; please do not send it to me yet. Hold onto that offer. It's going to be shown throughout the weekend. On Monday, we will discuss offers.
So, Sunday night, we can often be very busy, where I'm communicating with all the agents who have interested parties. Let's just hypothetically say I have three agents who have clients that want to make an offer. I'll communicate to them on Sunday that we're going to look at our first round of offers on Monday by 3. At that point, they'll submit their offer Monday afternoon. I'll either sit down with my client in person, or we'll have a conference call—which is usually the case these days, because I can send all the information to them electronically.
So, I'll have a conference call at 3 on Monday. We'll look at the price, the down payment, the closing dates, that there's sales contingencies, and anything else that's within each of these three offers. We'll confirm that we actually have three offers. That's the real important part—how many are we actually talking about here? Sometimes, it bumps up to five. Sometimes, you only have one offer as it all kind of shakes out.
So, we'll look at all of the offers, and then I'll compile a list of guidelines for those three buyer's agents. It's basically a wish list. I'll go back to them and say, OK, my seller wants you to bring your highest price. We would like a down payment of 20 percent or more. This is the closing date we want. We would like for your client to consider limiting their home inspection to only major mechanical, structural, and environmental issues. We would like your buyer to consider waiving the appraisal contingency portion of their mortgage.
We just give them a wish list of what would make their offer the best. Then those three agents go back to their clients, recraft their offer with all of that feedback in mind, and submit what we call their highest and best offer. But what's great is, each town and each area kind of has its own process. So the really great agents in our community know that if their clients are interested, they probably will have to pull together an offer by Monday or Tuesday at the latest, if they want to help their client make that offer.
So, we don't really have to wait any longer than that. Plus, once you have three solid offers or five solid offers over your asking price, you really shouldn't wait around. You should go ahead and proceed with accepting one of those great offers, and get into attorney review in a timely fashion.
Anderson: For people who are getting a mortgage, how real is an appraisal? I guess that's kind of a philosophical question. But if someone is willing to pay $600,000 for a house, doesn't that, in a sense, mean that it's actually worth $600,000?
Pollock: Oh, I wish it worked that way. Yes.
Anderson: So, what actually goes into an appraisal?
Pollock: Well—did you say "philosophical"?
Pollock: Yeah, it is, because market value is what a pool of current buyers have decided a house is worth right now. What's so funny is, you'll see the same six families going through open houses in the same price point, and they are sizing each other up. They know that they're probably bidding against each other weekend after weekend.
They feel like the only way I can get this house is if they offer $600,000 to outbid the other people, but then if the bank comes in and says, Well, nothing sold in that neighborhood for $600,000, it becomes a real issue. It's a very hard thing to navigate.
Anderson: Does that mean that sometimes, you do have to renegotiate if an appraisal doesn't come back as high as you wanted?
Pollock: Yes. Unfortunately, sometimes you do need to. We have a house that's closing Friday, and it had multiple offers. And unfortunately, it didn't appraise by a lot. So, we were able to renegotiate the price to the list price, so the seller still got what they wanted, and they weren't then required to do all the home inspection, repairs, and credits, because that was part of our negotiation to have it make sense for everyone.
Pollock: You still try to find a way that it works for the buyers—so that they have enough cash to make it happen—it works for the bank, and it still makes the seller feel like they're walking away with a good sale.
Anderson: How long does it take to go from accepting an offer to actually closing the deal?
Pollock: There's a lot of new lending laws that have rolled out since October that are causing a longer timeline from accepting the offer to when you can actually close. We used to be able to close in 28 days with the mortgage, the appraisal, the inspections, and the attorney review—all of those things, not in that order.
But now I feel like our quickest closing is about 40 days. It just takes that much more time, because what the government's done is put in these disclosures to protect the buyer that say, once you sign these disclosures, you have to wait three days for the next step to be able to happen. It's just causing more delays. It's causing things to take longer. I would say our average is 60 days. The longest I see is about 120 days.
So, what typically will happen is, somebody will come on the market, in February or March, and then they're typically closing sometime June, July, August—depending on how quickly they got the contract.
Anderson: So you don't get paid until the deal is completely closed, right?
Pollock: No, ma'am. I don't get a penny until we've closed the transaction.
Anderson: What about the other stuff, like the staging, and the booklet that you put together, and the photography? Are those basically factored into the price that you charge sellers, or are the sellers paying for those as they happen?
Pollock: No. I pay for all of that upfront, which is why it's very important to me not only for them to get top dollar, but for me also to recoup the thousands of marketing dollars that I put into each and every listing.
Anderson: Have you ever had a deal just fall through, and you're basically out however many thousands of dollars you spent?
Pollock: Absolutely. I think every agent has had that be the case. But every transaction isn't a transaction. It's actually about the people that you're serving.
For me, if I did everything I could to help that family, and it didn't work out for whatever reason, I just want what's best for them. There's always a silver lining, and there's always a reason that it didn't work out. You just have to factor in that you're going to have those kinds of expenses. It was a big shift for me several years ago when I stopped thinking of myself as a realtor, and I started thinking of myself as a business owner—investing money back into the business, growing the business from a marketing standpoint, and thinking of the financials of it not as mine, but as the business'.
When that happens, it doesn't hurt, because you factored that in from the beginning with your annual budget.
Anderson: Is the amount that seller's brokers charge pretty much stable throughout the region, or do different brokers charge different?
Pollock: Well, in the state of New Jersey, your listing commission is always negotiable, but it is within half a percent that most people are negotiating. I think the standard listing in New Jersey is 6 percent. There are teams out there that charge more, and there are teams out there that will do it for 5 percent. So, it just depends on the team and the services provided.
I'll have people say, Well, this other agent, she said she'll list my house for 5 percent. I say, Well, I'm actually yielding 5 percent higher on the sale of my listings than her brokerage is. So, wouldn't you rather pay me 1 percent more and net that 4 percent more? I try to make people understand that when you hire a team that does everything that we do, you're actually going to make a lot more money, even if it might feel like you're paying a half percent or one percent more.
Anderson: Right. Are you paying the buyer's agent out of the 6 percent, or are they being paid separately?
Pollock: They are paid out of the 6 percent. So, our standard compensation to the buyer's agent is 2½ percent, and then 3½ percent stays on the list side. The sellers always look at me with a furrowed brow, and I say, The buyer's agent's only expense is the gas that they put in their car and their time. As a listing agent, our expense is well into the thousands and thousands of dollars for all of the marketing that it takes to get your home sold.
So, that's why the listing side gets that additional 1 percent, which is allocated towards the marketing budget.
Anderson: It almost sounds like you should be making more than 1 percent more than the buyer's agent, just because everything that you've described just seems like a ton of work compared to just letting people go to open houses, and letting them decide what they want to—
Pollock: Right. You know, I sat at a listing presentation recently, and a woman looked at me, and she goes, Wait a minute. With everything that you do, you have a team of eight people that you pay for that are going to serve every single need that we have. You're going to facilitate this entire process, pay for the entire marketing plan, make everything happen.
She looked at me, and she said, Do you even make any money? In the back of my mind, I felt like, OK, this is a win, because she sees the value of what we're doing, and the service that we're providing. I think a lot of people say, Well, realtors get paid too much. But for our team, when we do a good job of mapping out everything that we're doing to take care of a client, and their reaction is, Oh my gosh, are you actually even making any money?
I was able to tell her that, Fortunately, yes, we have the opportunity to serve so many people in our community that we're doing quantity and quality. When we're doing both of those, it actually is yielding, you know, some profitability. But then for our team, I think the other reason why she asked that is because giving back to our community is at the core of our mission as a team. For every single closing, our client is choosing a charity of their choice, and we're making a donation to their charity as a closing gift.
So, if you go to closingforacause.org, that's where we talk about that initiative. I eliminated all of our marketing budget for magazines and newspapers, and started spending all of those funds on mutually beneficial community events, like sponsoring PTA events and town events, where it would help the town and the kids in our community. And yes, it's great, because people see my logo and see what I'm doing, but they also see that it's helping the school, and it's helping the community.
So, as soon as she said, Wait. You pay for eight people, the marketing plan, and you give a ton of money back to the community, the math didn't make sense in her head. We're just in a very blessed scenario where quality and quantity is equaling profitability and an ability to give back.
Anderson: Thanks for listening to this episode and this season of Working. I'm signing off from Working for now, but we'd still love to hear your thoughts about the podcast. You can email us at working@slate.com.
And you can listen to all five seasons at slate.com/working. This episode was produced by Jayson De Leon. Our senior producer is Mike Vuolo, and our executive producer is Andy Bowers. I'm Laura Anderson.
This podcast extra is part of your Slate Plus membership.
Anderson: What about now? How do you have a work-life balance now? Because it sounds like you are just doing tons of work for your sellers and also working on weekends. So, how do you create that balance?
Pollock: Yeah, a few years ago, when I realized that if I worked weekends, my children would never see a parent because my husband's a Broadway actor, so when he's doing a show—he's got two shows Saturday, two shows Sunday—and I really didn't want my kids with a babysitter on the weekend. So I decided to grow my team in a way that I could potentially no longer work weekends.
I've been able to stick to that for a couple of years now, solely, again, by harnessing delegation so the service that we provide is distributed amongst the eight of us. I have a digital strategist who's doing all of our online work. Then I have a listing manager, who's helping facilitate scheduling the stager, the photographer, and executing the marketing plan. Then we have a closing coordinator, who's taking care of each transaction, both for me and the buyer's agents—all the way from the time we get the contract until it's successfully at the closing table.
So, by delegating and hiring the right people for those roles—so that they're doing what they're gifted at, they love doing it, and they're highly successful at it—then the service is through the roof. Then we're each only doing things that we love to do, and we're able to do it in, an appropriate amount of time, instead of this crazy seven-day-a-week schedule that it used to be.
Anderson: Right, right. You are trained as a dancer. Do you think that there are any attributes that are associated with being a successful performer that are also associated with being successful in real estate?
Pollock: Yeah, it really dawned on me a few years ago, when I realized that my commitment, my drive, and my determination to show up to the ballet bar six days a week for 15 years actually just translated directly over into this career, where I wake up every day, and I go to work—whether I've got an appointment on the books or not, I'm at the office. I'm trying to figure out how to lead the team better, how to serve the sellers better, how to nurture the buyers better.
I absolutely think that kind of just repetitive commitment translates into any career. I look at people who were dedicated to a sport when they were growing up, and they can apply that to their business. For me, ballet has absolutely been a great transition. We hosted a fundraiser two nights ago, because for part of our giving back initiative, we created the Vanessa Pollock Music Initiative.
What we do as a real estate team is, we raise money to help with music education in our school district. We had a fundraiser on Monday night, and I had to stand up in front of 400 or 500 people and speak. It's not an issue for me, and I think it has a lot to do with the fact that I was onstage doing The Nutcracker and Coppélia, and traveling all over the world, dancing with a modern dance company. Being onstage isn't a big deal for me.
So, it also helps, just getting on the phone and talking to people. Once you've been a performer, and you've had to get over any stage fright, then you don't have it for much of anything again, I don't think.
About Slate Plus transcripts: Podcast transcripts are prepared by a contractor for use by Slate Plus members and Slate staffers. The transcript text may vary from the final form of the edited podcast. Availability, accuracy, and editing of the transcripts may vary. (Return.)