The Slate Archives Podcast: "The Recline and Fall of Western Civilization"
Listen to a former flight attendant talk to Slate editor Dan Kois about his polarizing airplane-seat proposal.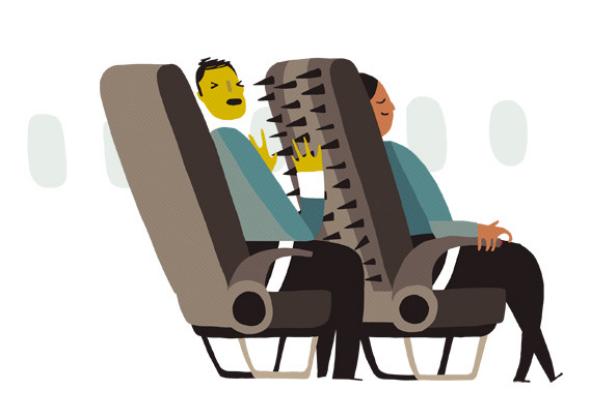 In celebration of Slate Plus' first anniversary, we're republishing a selection of pieces from the past year, including this article, which was originally published on Mar. 18, 2014.
A podcasting project that's for your ears only. This is the first episode of the Slate Archives Podcast, a new interview series we're launching exclusively for Slate Plus members.
The plan is simple: Revisit classic Slate pieces. The boldest arguments. The ideas that were the furthest ahead of their time. The #SlatePitchiest #SlatePitches. We're going to ask Slate writers to recount how readers reacted to some of Slate's greatest hits.
What other Slate pieces should we revisit? Leave your suggestions in the comments or email Jeff and Jennifer at plus@slate.com!
My conversation with Dan begins after he reads his piece. Here are some of the links mentioned in the podcast:
"What's your position on reclining place seats?" See what USA TODAY learned in a 2011 poll.
"I infer from this that Dan Kois is not afflicted with lower back trouble," rebuts Megan McArdle, in the the Daily Beast.
"And there are devices that people sell!" says Dan. Check out Knee Defender, for example.