Taking Photos in Ferguson
What it's like to shoot the police when it seems like the police might shoot you.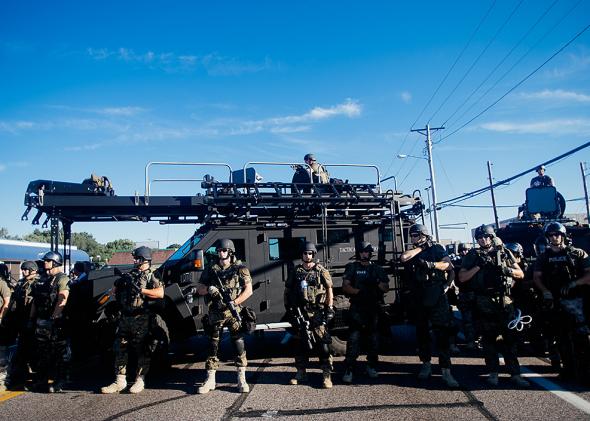 For the most part, I have one rule for photography: Get close.
Partly, this is a technical issue. I own a single telephoto zoom lens, and given its length—80 to 200mm—it's not especially versatile. For most photos, I use a collection of prime lenses—15mm, 40mm, and 70mm—which covers most situations.
What it means, however, is that if I want to get a portrait, or a scene, or a view of the landscape, I have to physically position myself—I can't rely on the lens to close the distance.
This is fine when you're photographing protests and demonstrations. In Ferguson, Missouri, where I took these photos on Aug. 13 and 14, most people wanted media coverage and didn't complain when I was in their face, snapping away.
Photographing police, on the other hand, is a different story. As we've seen, police in Ferguson aren't terribly interested in sharing their names or their faces, and get hostile—quickly—when they see cameras. Of the photos in my Ferguson collection, nine are of police. Four were taken with the zoom lens, three with the 70mm, one was with an iPhone, and one—a wide shot of police and armored vehicles—was with the 15mm.
To grab that shot, "SWAT Team, Fully Assembled," I had to run onto the cleared street, get extremely close to the police, and position myself to get as much of the scene as possible. The police were steadily moving forward and threatening to arrest anyone who got in their way. If you look closely, you'll see a man looking directly at me. A moment after I got close, his hand gripped his weapon. I took my photos, looked at him, and dashed off the street.
To say that this was unnerving would be an understatement.