A Special Slate Plus Members Only Live Event!
Join L.V. Anderson, Slate's food and drink editor, for an evening devoted to superbugs in New York!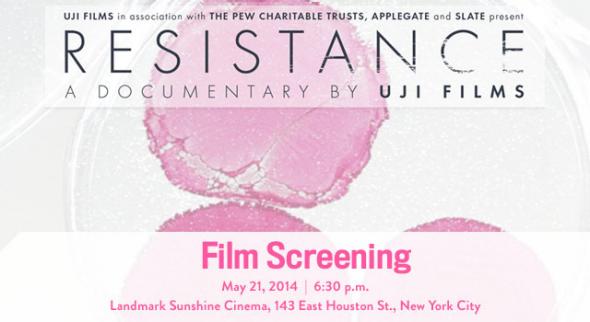 Hi Slate Plus members! We're bringing you a special members-only event in New York City with L.V. Anderson in just a few short weeks.

This event is for Slate Plus members only. RSVP via the Upcoming Events tool in the Slate Plus dashboard on the right side of the homepage. Your individualized discount code must be included in the RSVP email. Seating is limited.
Location: Landmark Sunshine Cinema, 143 East Houston St., New York City
Join L.V. Anderson for an evening devoted to superbugs with the screening and discussion of the film Resistance. The film is brought to you by UJI Films in association with the Pew Charitable Trusts, Applegate, and Slate. L.V. will speak to the scientists and writers involved in the film and screening who are experts in antibiotic resistance.
About Resistance: Antibiotics were first mass-produced in the 1940s. Their ability to fight and kill bacteria revolutionized medicine and had profound effects on everything from agriculture to the armed forces. Seventy years later, these miracle drugs are failing. Antibiotic-resistant infections sicken at least 2 million Americans and kill at least 23,000 every year. There are now dozens of these superbugs, each with its own challenges and costs. How did this happen?
The reception will start at 6:30 p.m., and the screening will occur at 7 p.m. A discussion will follow at 8:30 p.m. with filmmaker Michael Graziano; Dr. Martin Blaser, director of NYU Human Microbiome Program; and Urvashi Rangan, executive director of the Consumer Reports Food Safety and Sustainability Center. It will be moderated by L.V. Anderson, Slate's food and drink editor.