How Adele, Apple Music, and the Weeknd Robbed Drake of His First No. 1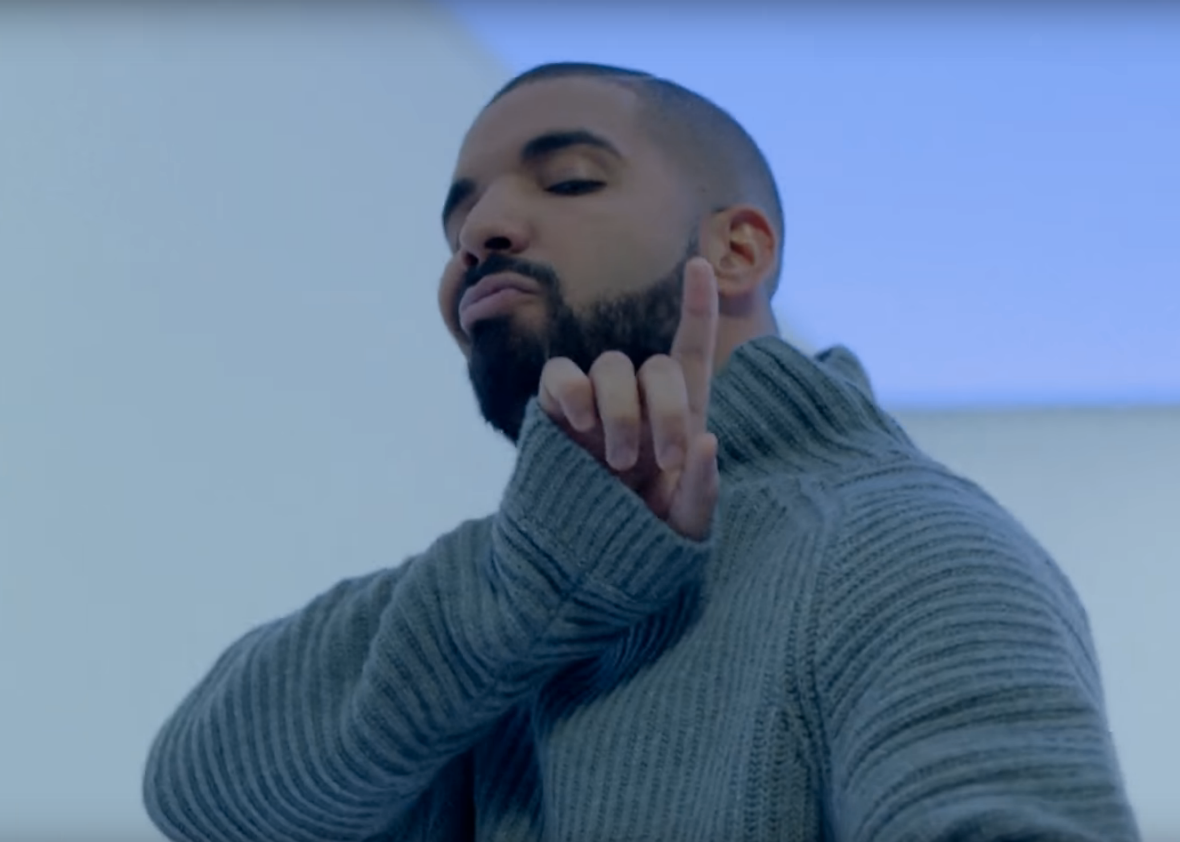 Shouldn't the most talked-about, most-memed song of the week be on top of the hit parade? I mean, what's a pop chart for? From "Call Me Maybe" to "Harlem Shake" to "Wrecking Ball," this decade has brought us a raft of No. 1 hits that got to the top thanks to a combination of musical infectiousness and GIF-worthy virality.
But a chart is only as good as the data that goes into it, and hip-hop king Drake is getting a hard lesson in this reality this week. His much-memed, dance-tastic, installation-art-f*cking-with smash "Hotline Bling" spends its third week at No. 2 on Billboard's authoritative Hot 100 chart—and it's now very possible it will go no higher. This would be heartbreaking for the Toronto rapper–crooner born Aubrey Graham, who has openly admitted he covets a Hot 100 chart-topper. It would be his first No. 1 as a lead artist—in his illustrious, influential, nearly decade-long career as hip-hop's emerging king, Drake has only ever reached the penthouse as the featured act on Rihanna's "What's My Name," a one-week chart-topper in December 2010. But he may have missed his window to take his languid jam "Bling" to the top, before we head into the frothier competition of the holiday season. Drake is being screwed by an old friend, a large company he loves, and the biggest singer on the planet.

Right now, he's being chart-blocked by the friend: fellow Torontonian and womanizing humblebraggart the Weeknd. The R&B wunderkind born Abel Tesfaye—who, back in 2011, made his major-label debut on Drake's Take Care album with the track "Crew Love"—has spent all of October parked atop the Hot 100 with his improbable No. 1 smash "The Hills." To be exact, that creepy Weeknd song has now spent the last six weeks on top (for those of you scoring at home, that's twice as long as Weeknd's seemingly superior summer single "Can't Feel My Face" spent atop the chart; I know, I'm mystified, too). Three weeks ago, Drake's "Bling" moved up to No. 2, behind his buddy's "Hills."
Then early last week, Drizzy dropped the GIF-tastic video, and No. 1 looked totally in the bag. One key thing to keep in mind about the Hot 100's rules for music videos: While Billboard and data-collector Nielsen SoundScan do count streams of fan videos for the charts, those videos have to contain at least 30 seconds of the original recording. So a lot of the "Hotline Bling" memes you've seen over the past couple of weeks—Drizzy dancing to Vince Guaraldi, Drizzy dancing à la Frasier or The Cosby Show, short Vines of Drizzy dancing to myriad pop songs—don't actually count for Billboard. But that shouldn't have mattered. If millions were making "Bling" memes, millions more were surely watching the original clip. Two weeks ago, Drake was already close to hitting No. 1 even without the video; surely a few million video views would be enough to take him to the top.

But Drake made one fatal error. In its first week, he made the official "Hotline Bling" video exclusive to Apple Music—and none of those first-week video views were reported to Nielsen and Billboard. Digital sales at Apple's iTunes Store have been factored into the Hot 100 since 2005. But Billboard has only had streaming data from Apple since early August, about a month after the launch of Apple Music, and that's only for streams of music, not video views. The original "Bling" clip might well have been watched 10s of millions of times last week, but we'll never know. (Amazingly, Billboard reports that on its Streaming Songs chart, which is a major component of the Hot 100 and where video views are usually a dominant factor, "Hotline Bling" actually fell in streams last week, dropping from No. 2 to No. 5.)
This, by the way, is an old problem with the charts—Nielsen SoundScan and Billboard can only report what data-providers will give them. For example, when veteran country megastar Garth Brooks released his latest album Man Against Machine through his own digital retail store, GhostTunes, a year ago, precise sales of the album were a mystery. More controversially, a decade ago, Walmart would not report to SoundScan any sales of albums that were exclusive to its stores. Then one week in 2007, a Walmart–exclusive album by the Eagles sold a massive number of copies, and the retailer abruptly decided to change its policy midweek, reporting the Eagles' dominant sales to Nielsen and robbing Britney Spears of a No. 1 album. Stuff like this just happens on the charts from time to time—despite its best efforts, Billboard can't do much if the music merchants won't play ball.
Drake has been very loyal to Apple all year—giving iTunes an early exclusive on his smash February mixtape, for example, and launching his next one, with Future, on Apple Music. But this week, that loyalty has cost him. He has since since opened up the "Hotline Bling" video to YouTube and Vevo, and while the buzz on the clip has cooled somewhat since week one, a song this hot will inevitably rack up a couple million video views over the next few days. In a normal week, that boost would lift a close No. 2 single to No. 1, easily, and Drake's wait for a No. 1 hit would at last be over.
But this isn't a normal week, which brings us to the third Act of God event thwarting Drake—or should I say Goddess: pop deity Adele. On Friday, this decade's Michael Jackson (at least in terms of sales) dropped "Hello," the lead single from her long, long-awaited album 25, and it was greeted like the Second Coming.
In its first day on YouTube/Vevo, the Adele clip set a one-day viewership record—beating the prior record by Taylor Swift's "Bad Blood"—and at this writing, on day five, it has garnered a staggering 90 million global views. At radio, Adele's song has been fast-tracked immediately into heavy-rotation. Over at iTunes and other digital song-sellers, "Hello" is reportedly poised to beat the all-time one-week digital sales record set back in 2009—this at a time when digital sales have peaked and many Americans have switched to streaming. And by the way, Adele is streaming, too—even Spotify is in on the action. Adele has not had the best relationship with the leading streaming service, keeping her blockbuster 21 off Spotify for years; but this time, she let Spotify have "Hello," and it's rumored to be setting records there. Billboard's chart week—the period when it collects data for the Hot 100 and other charts—runs from Friday to Thursday, and the numbers Adele is racking up from every Hot 100 data-provider in that seven-day period are so mind-blowing, it seems impossible she won't debut at No. 1.

Which means that Drake may have just missed his window to score a No. 1 hit with "Hotline Bling," forever. If it hadn't been for those Weeknd remixes, he'd have rung the bell a week ago. If he'd put his video someplace besides Apple Music, he'd be No. 1 this week. If the almighty Adele hadn't picked this moment to deploy "Hello" like a lightning bolt smiting her nearest competitor, he'd be No. 1 next week. Assuming "Hello" is No. 1 on our next Hot 100, Drake could hold out hope that Adele's song wanes a week or two later—like Taylor Swift's "Shake It Off" did in 2014, after two blockbuster sales weeks, giving Meghan Trainor's "All About That Bass" a clear path to the top of the chart. But odds are much better that Adele's song will stay hot through the holidays as she unleashes 25, and that Drake's song will cool once the Internet runs out of ways to remix it.
I've often said timing is everything on the charts, and part of that is the opponents you're facing in any given week. Like this year's Chicago Cubs, Drake found himself outmatched and error-prone in October, when it counted. His Charlie Brown–dancing just got a little more poignant.