Drake's Dance Moves in New "Hotline Bling" Video Are Goofy, Riveting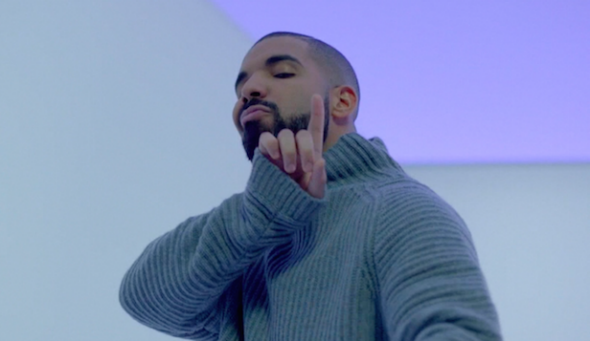 The video, by Director X, opens with a room full of sex hotline workers in matching outfits, but from there it becomes much more abstract. The rest of the five-minute song features Drake toe-stepping and head-bobbing in a series of minimalist color-lit rooms. "Hotline Bling" samples D.R.A.M.'s "Cha Cha," and Drizzy seems be channeling the rapper with his dance moves as well. The rooms themselves seem to take cues from visual artist James Turrell, whose retrospective in LA Drake visited back in January.
Props to Drake for his simple, pared-down visuals, but the "goofy dance moves" music video genre is well-trodden ground. Sean Paul's video for "I'm Still In Love With You" echoes "Hotline Bling's" colorblocking and seemingly unchoreographed moves, and back in 2011 Thom Yorke proved that not really knowing how to dance is the best possible way to dance. Still, of all the musicians busting out semi-awkward dance moves, Drake looks the most comfortable—just look at that turtleneck.