John McCain's Complicated Legacy
Slate's Jim Newell on the late senator and this year's midterm elections.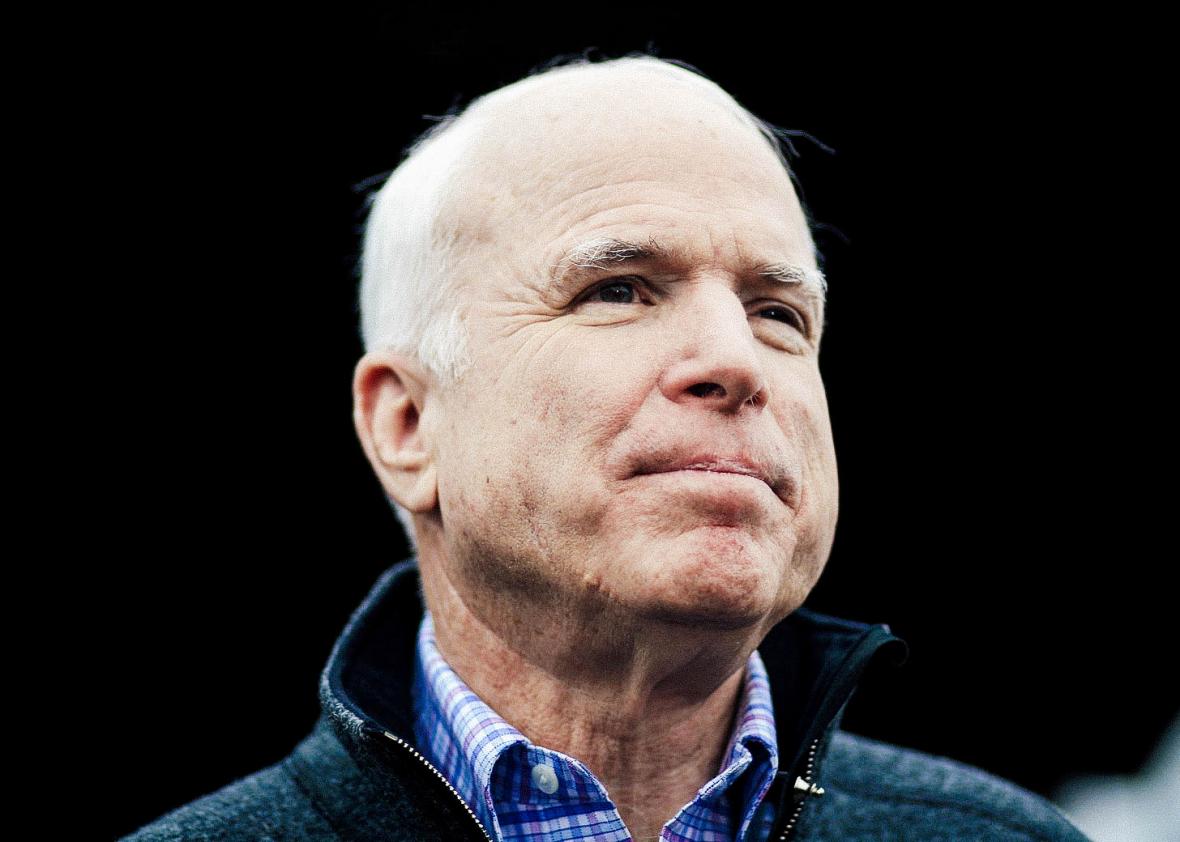 Six-term Arizona Sen. John McCain died Saturday, a little over a year after he disclosed that he had been diagnosed with brain cancer. In this Slate Plus members-only podcast, Chau Tu talks to Slate staff writer Jim Newell about McCain's complicated legacy, what will happen with McCain's Senate seat, and what else he's been covering on Capitol Hill for Slate.
This transcript has been edited and condensed for clarity.
Sure. Well, I should say I'm still very skeptical of him. In his record, he had a lot of times when he didn't really live up to his ideals, which admittedly he would be the first to concede to. But there are a few things I appreciated about him in the end. He really did appreciate public debate. There are a lot of senators up on the Hill who just will never talk to you or just give a quick one-line statement to a question. He would just stand around and answer your questions, and try to be honest about it. There are a lot of reporters who are talking about the times that McCain would joke with them and everything, and that could maybe be a little bit indulgent on a reporter's part, but he was always open to the press, unless his handlers got to him, which they occasionally did during election years.
He wasn't ever quite the "maverick" or "moderate Republican" or any of these other labels that suggested he was always in the middle of every debate, capable of going to either side. He was a pretty loyal partisan, but he was, at certain important times, willing to go against his party. He was also, by nature, a deal maker. He wasn't able to complete all of the deals that he would've liked to, especially on immigration, which was one of his biggest issues. I think that was a lot just to the general partisan breakdown in Congress over the last 15 years or so, but that was his nature, when a lot of people aren't willing to ever take a stand on something that might be difficult.
Also, he was just a very interesting person. He was sort of idiosyncratic in the way that a lot of senators used to be, these very interesting unique characters. Now, everyone sort of just checks the list of their own partisan loyalties and don't really have that much interesting about them. So, I was sort of just sad because there aren't many of them left like that who are really interesting characters in Congress. That was something I appreciated about him, too.
What's been the mood in Washington surrounding his death? Have you talked to anybody about him?
Yeah. Well, another thing I think it says about him, which is literally everyone who has ever been in contact with him—well, I shouldn't say literally everyone—but just about everyone who has been in contact with him really appreciates him: Republicans, Democrats alike. It seems pretty equal on both sides in the Senate, and just in Washington, people who ever interacted with the guy just really appreciate him as a human being.
I found it interesting—I tried to write a nuanced piece, and a lot of people appreciated it, but I was getting some on the right who thought I was too harsh and some on the left who thought there was literally nothing good about him whatsoever, so I got a good lesson in how well the internet rewards nuance. But I just do think he was a very complicated person. I just enjoy writing about complicated people. It's not my job always to just judge them. I just want to write about them.
Yeah, and I would say complicated is probably going to be the word to describe his legacy, right?
Yeah. I should say so. I think that there are flaws in both sides when you take it to an extreme, people saying he was a hero who without fail served his country and always did the right thing. That's not true. He was also a very ambitious politician. When there were times to advance his career and he had to put politics ahead of the honorable stance, he did that a few times.
But I do think the way that he's been under Trump, especially in the last year, willing to stand up to him, I do think that that resurrects his legacy among some people who maybe appreciated him very early on, fell away from him, but then I think he came back in the end. So I think he'll be remembered on the whole very well.
Do you know what's going to happen to his seat in Arizona?
That's up to the governor, the Republican Gov. Doug Ducey, to decide right now. He's looking for someone who can, not just be a placeholder who could fill the seat for a couple years until the next special election, which will be 2020, he wants someone who can fill that seat and run for reelection in 2022.
The Arizona Republican party is very interesting. You have a very pro-Trump segment that was very anti-McCain for decades; before they became pro-Trump, they were very anti-McCain. And then you have sort of a more business-friendly establishment, pro-immigration reform segment in Arizona, too, so it's difficult to find someone who will bridge the sides. That's what Ducey is going to look for. I imagine it will just be someone who's a cookie cutter.
On the Democratic side, we've seen a lot about the struggle between the establishment of the party and the ascendant left wing, but the results so far in primaries have worked out pretty well for both sides because in the red districts, or more purple districts, where Democrats are trying to take on or trying to pick up seats, the establishment has pretty much gotten their centrist candidates. But in safely blue districts like Alexandria Ocasio-Cortez's district in the Bronx, they're getting socialists. So in these safe seats, leftists are making more of a foothold but in the super competitive seats, Democrats are putting up viable candidates in the swing districts.
On the Republican side, it's been very interesting just because they have a lot of trouble in the House, but they are in pretty good position in the Senate just because of the way the map sets up where there's 26 seats that Democrats have up for re-election, a lot of them in states that Trump won. So we could be looking at something where Republicans take back the House but lose several seats in the Senate.
There is a few that Democrats really should not be having to worry about right now, like Florida, the Florida Senate race, where Bill Nelson is up for re-election and is being challenged by the governor, Rick Scott. That's really not looking good for Bill Nelson right now, and if he can't win that, then it's looking like Democrats are going to have some trouble even maintaining the status quo in terms of their numbers in the Senate.
Some other key races that you're keeping an eye on? Have there been any surprises?
Well, the Florida Senate one is a big surprise and I'm keeping an eye on it, and I expect that to be probably the most expensive Senate race in history.
There are few very Trump-y states where the Democrats seem to be in decent shape. Joe Manchin in West Virginia, which is the Trumpiest state of all, he seems to be in pretty good shape there. Jon Tester in Montana. There are a couple other things that are sort of flickering on the concern list for Democrats: Bob Menendez in New Jersey, who had a corruption trial that ended in a hung jury. It turns out that having been accused of corruption and gotten out on a technicality is not very popular with the voters. So now Democrats are defending a Senate seat in New Jersey in one of the bluest years in memory.
Also, in Wisconsin, which Democrats felt pretty safe about, there was a poll last week showing the Republican challenger, Tammy Baldwin, within a couple of points. That's another one that they're going to have to be concerned about. So I would say in general, I'm really surprised that it seems like the Senate is really just not tracking with the overall vibe, that everything is going to be great for Democrats this year.
What are some of the bigger platforms or issues that are coming up in these races?
Well, Democrats want to make everything about health care, which is a new position for them because health care was not very good for them when they were being assaulted relentlessly under Obama for Obamacare, but then Republicans tried to appeal Obamacare and people figured out that they liked a lot of what's in Obamacare. So now it's a unifying message. It works from everywhere in New York City to West Virginia just talking about protecting concerns for preexisting conditions. Republicans, meanwhile, have a message of Nancy Pelosi is very bad. So that's literally their campaign issue.
Yeah, so is Nancy in danger then?
I think she is. I've been doing a lot of preliminary reporting. I'm figuring out what's going to happen in the House, if Democrats take back the majority, and whether she can be speaker, and it's really unknown at this point. I think if Democrats win with maybe a three-, four-, or five-seat margin, it's going to be very difficult just because there are a lot of candidates who have said they would never support her as Speaker. Some have left wiggle room, but some have not.
Then there are already some opponents within the caucus, so to be seen. She is a pretty master negotiator and arm twister, so you can never really rule her out and also there's no clear heir apparent, especially after Joe Crowley lost, so it's just very unknown. It's going to be very interesting.
Yeah. Again, that's in a new Slate newsletter called the Hot Seats, and everyone can sign up for that at slate.com/hotseats.
So what else has been going on on the Hill? You spoke with some senators after Trump was implicated in Michael Cohen's guilty plea last week. What did you hear? What were they talking about?
Well, Republicans were, no matter what question you asked them, they would just say, "It has nothing to do with Russian collusion." It's like, "Well, that's not really what … This is a whole other legal issue that Trump is dealing with, but you can say that. That's fine." Also, I asked Democrats, now that Trump has been implicated in a felony, is it time to start considering impeachment? They don't want to mention that, and I understand why, just because they think it would distract from the economic message that they think is better for them, and it wouldn't quite rally the Republican base the way that the threat of impeachment might.
They don't want to talk about impeachment until it's a serious chance of happening in the House, and then with a conviction in the Senate. That's just a tension there because as long as Trump is popular among Republicans—which he is right now, he has an 80 or 90 percent approval rate among Republicans—Republicans are not going to go along with impeachment so it's never going to go anywhere. Democrats aren't going to talk about it, even as more and more evidence for potential impeachment arises.
So they're probably going to stay out of these issues then for the most part?
Anything else going on on the Hill that's been interesting?
Well, we have the Brent Kavanaugh confirmation hearing for the Supreme Court next week. I've been covering the Democratic struggle to find a foothold and opposition against him. It hasn't really worked so far. The big fight has been a procedural one, which is never really something that gets people animated, but Democrats are basically trying to get as many documents as possible out, several million potential documents from Kavanaugh's record in the Bush White House.
They're not going to get all of them, but the basic idea is they want to find something linking Kavanaugh to the scandals of the Bush administration and whether it be torture, Katrina, or Guantanamo or anything like that, because they really do need a sort of silver bullet in order to stop this nomination or to repeal a Republican or two away. I don't expect Republicans to allow that to happen very easily.
So it seems like it will probably be an easy appointment?
Yeah, it's going to be pretty contentious next week. There's four days of hearings, but if there's not a moment that really causes nationwide scandal, that's the number one story in the country, then I think he's probably in pretty good shape.
Well, I am Slate's senior golf correspondent at large, a title I've invented for myself. So he just, he won high times in 2013 and then he just started having back issues that plagued him for five years, so he would try to come back in fits and starts, but really couldn't go anywhere. Now it seems since his last surgery, which sort of fused his spine, it looks like those issues are pretty much done, like he can actually play now, so he's been building his way back up.
That second-place finish, that was the strongest show he'd had in a major in almost 10 years. So I think it's just been a matter of him progressing and relearning what it was like to win so many times that now he's very close to getting, so hopefully he'll win a bunch of tournaments. He's also, unfortunately, getting pretty old so I think he only has a few more years really, but it's a really exciting time.
What's next in the season? Is there another tournament coming up?
Well, they're in the PGA tour playoffs now, which no one actually cares about, except for me because I'm a golf nerd, and then they have the Ryder Cup, which is like Team USA versus Team Europe at the end of the month, which should be pretty fun.
But no other competition really for Tiger? Who's standing in his way?
Oh, there's a lot. There's all these really young people: Justin Thomas, Brooks Koepka, Jordan Spieth, Rory McIlroy, all these people who were inspired by him to take up golf, who are now extraordinarily good, and he's having to compete with them, despite being 15 or 20 years older. That's why he's never going to return to what he was where he won like 40 percent of the tournaments he was in, at his best. But if he could just win a few more, I think it would be a gratifying return.