Is Representation in Hollywood Finally Improving?
Slate's Inkoo Kang on her favorite films and TV shows of the year so far.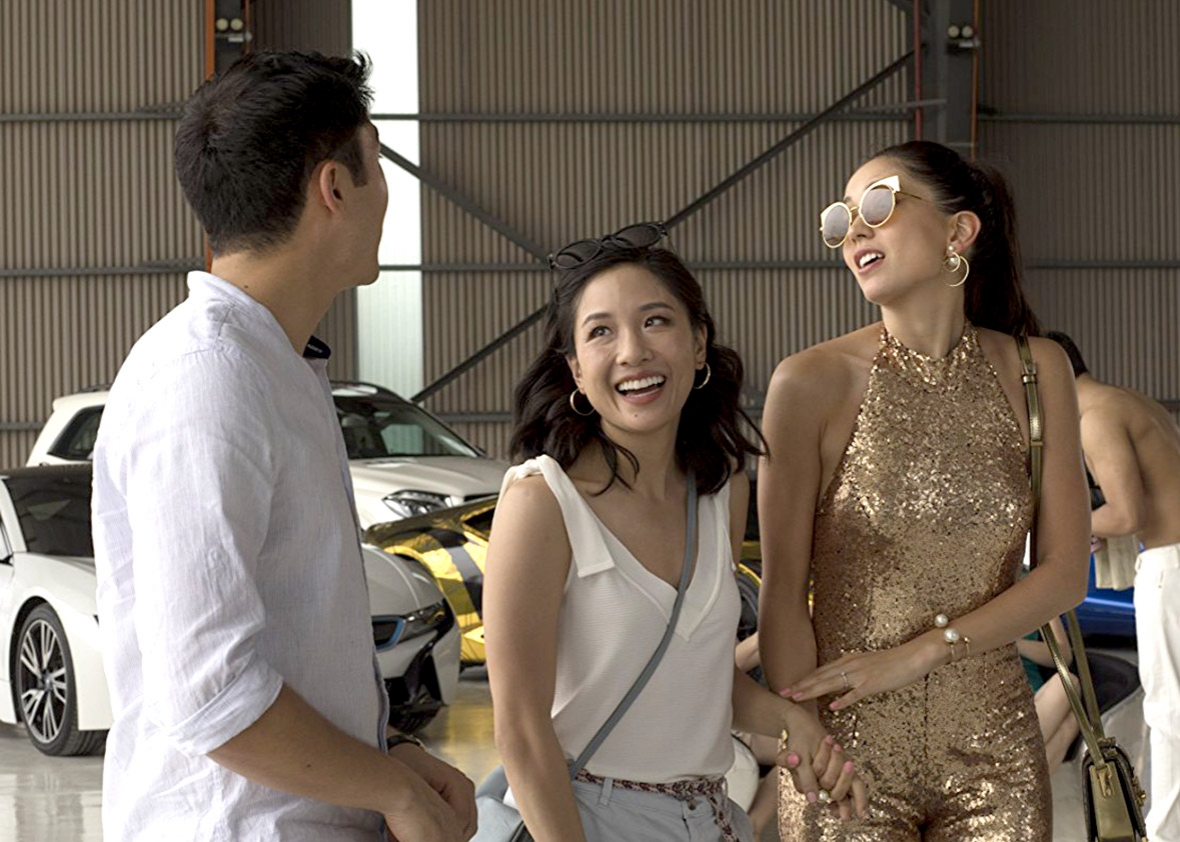 We're nearing the end of another summer movie season. In this Slate Plus members-only podcast, Chau Tu talks to Slate staff writer Inkoo Kang about her favorite films and TV shows this year so far, and about how representation is changing on screen.
This transcript has been edited and condensed for clarity.
Chau Tu: We're nearing the end of the big blockbuster season in Hollywood. Do you have any favorite movies from the summer?
Inkoo Kang: I think blockbusters, not so many. I think that the wide-release film that I am definitely the most excited about is Crazy Rich Asians. It's just a really well-done, really satisfying romantic comedy and also it does representation in a way that feels really fresh and organic.
As you can probably glean from the title, it's about Asians, which is pretty novel as far as mainstream multiplex fair goes, so that's actually really nice. I was driving around L.A. last week and it was a little bit weird to see all of these movie posters plastered everywhere for the movie because L.A., of course, has a ton of Asian people in it, but you never see Asians on movie posters—i.e., an emblem of one of the biggest industries of that city. It just brought home to me what I had really been missing and I had just gotten so used to it, I didn't even realize I was missing it.
I think as far as smaller movies go, it's been a really fantastic year. It's been a really fantastic summer for indies. Eighth Grade was amazing. Sorry to Bother You, also amazing. There's a tiny film back in June that I was sorry left theaters so quickly. I hope people will check it out when it comes out on VOD or DVD. It's called Leave No Trace. It's about a teenage daughter and her father, and they're living off of the grid. Just a lot of the complications that come out of that but it's an extremely compassionate film by Debra Granik, who directed Winter's Bone, and it's her first narrative film since Winter's Bone. That's really worth checking out.
Yeah, so on the subject of Crazy Rich Asians, what do you think about its representation? Everyone's been talking about how this is a first film with Asian actors in the lead in 25 years, since The Joy Luck Club, so the expectations are high. How do you think that film is going to deal with that?
I'm going to make a couple of corrections.
Yeah. I feel like there's this canard about how it's the first film in 25 years about Asians. That's definitely not true. There have been a lot of indies. There's Harold and Kumar, even. So I don't want to make invisible all of that work that Asian-American filmmakers have been doing. It is definitely the first studio film, which means it gets a wide release and it gets a big marketing push about Asian Americans specifically, and not Asians, since The Joy Luck Club, which came out 25 years ago.
I think it does a really interesting and really gratifying job of depicting Asian Americans, specifically in the context of showing the difference between Asian Americans and Asians and how when Asian Americans go to Asia, they don't necessarily feel at home or in this case, are particularly welcome. The storyline or the premise of the movie is that this Chinese-American professor whose name is Rachel, she's played by Constance Wu. She meets her boyfriend's family for the first time when they decide to attend a wedding in Singapore, which is where he's from.
Because she is Chinese American and not from a Singaporean background, you can see that she goes to Singapore believing that she knows how to handle herself in Asia, and then she very quickly realizes this is actually a very different world on several different levels. There's a cultural aspect, there's economic aspect. There's the fact that nobody really wants her there, because his mother Eleanor would prefer that he would come home from New York and essentially take over the family business, and really believes that Rachel is an obstacle toward him finding his rightful place.
A lot of the movie is about Rachel trying to navigate these very treacherous waters while also trying to decide what is really best for her and how she and Nick's relationship can feel holistic when she really feels that basically it's her on one side and his mom on the other side. I have to add that Eleanor, his mother, played by Michelle Yeoh—Michelle Yeoh completely steals this picture. She's not just weird dragon lady stereotype where you're like, ugh. You really get to feel for her as well.
There's also another film out right now, BlacKkKlansmen, and that's also made by minority filmmaker Spike Lee. We're seeing these big movies that are about minorities and minority stories and minority issues, but we're also still seeing movies like Isle of Dogs and Ghost in the Shell that have come out pretty recently that could be seen as problematic in terms of how they dealt with race on-screen. How do you think Hollywood has been fairing in terms of representation? Do you see it improving? Do you see it changing?
I really hesitate to be optimistic, but I guess I am. There was a big controversy a while ago, maybe about a year ago, where they were discussing a sequel for Hellboy and there's a Japanese-American role that had initially gone to a white actor from Game of Thrones, Ed Skrein. Essentially, after a lot of Twitter campaigning I suppose, he backed out of the role. He said he had a lot of discussions with his friends and/or family, some of whom might not have been minorities, and essentially he was like, "This is not really my place, so I'm going to bow out of this." Then the production team brought on an Asian-American actor, Daniel Dae Kim, to that role and that, for me, was a huge coup in terms of Asian Americans getting our point across to Hollywood.
Granted, I think the chronology is that after that, Isle of Dogs and Ghost in the Shell came out. I think it's notable that Isle of Dogs and Ghost in the Shell both encountered protests from the Asian-American community because I feel very strongly that Asian-American identity and Asian-American history is really quite an unknown entity, even among a lot of Asian Americans. It's very interesting to me to see all of this activity happen because I think it is not only about making change, but it's also about this coalescence of a larger activist identity.
Yeah, it's been interesting to watch for sure.
Yeah, and I don't think it really existed five years ago. Watching it become this thing right in front of my eyes has been really inspiring, actually.
Yeah. Switching gears a little bit, you've also been covering TV for us. What shows have you been keeping up with and what would you recommend?
Here's my prelude: I think that even though there's a lot more original programming in the summer these days, the pickings were still a little bit slim. I think my favorite show right now is Younger. It's a TV Land sitcom. I wrote briefly about it for Slate and what it does with the storyline and how it incorporates #MeToo in a storyline in a way that felt very sensitive, but also very lighthearted, in a way that I thought worked quite well for the show and also what it wants to say.
Younger is currently in its fifth season and it's about a 40-ish woman who, when she tries to get back into the workforce after a divorce, realizes that no one will hire her. She does this makeover for herself and tries to pass off as a 26-year-old and the show leaned on a lot of millennial stereotypes at the beginning, but it's really a relationship-driven show and because it takes place in the publishing industry, has a lot of really funny jokes about various authors. The show sounds a little fluffy, but it also has very smart people writing for it. You can tell.
I also really like The Bold Type, which is a younger Freeform show about three girls in their 20s who work at a Cosmo-like magazine. I think GLOW came out really strong this season and I'm looking forward to this new season of Insecure.
Has there been anything that's been surprisingly good recently?
I'm gonna plug the movie that I have loved the most all year, which is First Reformed. I think it came out a while ago, maybe in April, but it's a movie that has really stayed with me for months. Ethan Hawke stars as a pastor in upstate New York who is the shepherd of a very tiny and getting-smaller flock. He sees, on the one hand, sort of the rise of the megachurch and how he's excluded from it because he doesn't play a lot of the games that I guess you're supposed to play. And then on the other hand, he knows that he's dying and as he's about to die, becomes more radicalized politically and then also you can definitely say a lot more unhinged.
What I really love about this movie is that I think it shows religion in a very interesting, human light and yet also really engages with this question of climate change and what are you supposed to feel other than complete despair, especially if you are a man of God and believe that God has bestowed this planet, this earth to his creation and all humans are doing is just trashing it all over the place. It's a very serious film. It's a very somber film, but it's also really smart and really gripping.
What about anything that's been disappointing?
You know, Dietland was really disappointing for me. I was really looking forward to the show. I liked the novel by Sarai Walker and I thought that the idea of a woman who sort of becomes, again I guess, radicalized politically and flirts with the idea of joining a violent, extreme feminist terrorist cell essentially would be really fascinating, especially after #MeToo and just these open expressions of female rage. I thought it would be a very timely show as one that would garner a lot of chatter, but it really pooped the bed and it really disappeared and I wasn't surprised afterward, I guess, after watching.
Sharp Objects, I would also say was very disappointing. It's a neo-Southern Gothic tale about a journalist who goes back to her hometown and eventually to her family home and rediscovers the circumstances under which her little sister died when she was younger. The performances are really great, but it really is a two- or three-hour story that got stretched to eight hours and it's just so boring.
Sure, so the reason I really wanted to tackle this idea of the depiction of nail salon workers is because I think a lot of us read or heard about that New York Times exposé about how horribly treated a lot of the nail salon workers are in New York. I wanted to see with that exposé and the larger awareness in our culture, if that changed anything in terms of their depiction, so that's where that piece came out of. I think that what I essentially learned, unfortunately is that unless these lower-class, mostly immigrant Asian women are at the center of their own stories, they never really get to be imbued with the amount of character development that I think they deserve.
I think the most notable example is an episode in Unbreakable Kimmy Schmidt, where Kimmy, who is this naïve figure basically goes to a nail salon after watching a Sex and the City–type show and thinks, "Oh, I'm going to take advantage of all of the girly wonders that New York City has to offer," and goes to get a manicure with her friends and then realizes that their working conditions reminds her of the bunker that she was imprisoned in, essentially, for 15 years. Not a great comparison, and then the whole episode turns out to be a lesson in her white privilege.
It basically turns into this very special episode about white privilege and the Asian women are just a vehicle for her to learn this lesson. I guess to the show's credit a little bit, the one worker that Kimmy continually engages with says something like "I didn't ask for your help" when Kimmy tries to intervene and make working conditions better. Kimmy doesn't really have a response to this because the whole point of the episode was her trying to figure out how can I use this white privilege in order to help other people.
The episode ends with her saying "You know, I had it worse than you did" as a punchline. She leaves the room and then goes to watch Netflix with her friend. There's just no real resolution.
I will say that the two shorts that do try to depict the anteriority of nail salon workers, they're both shorts. One is called Joy Joy Nails, which you can watch on the Slate website. It's embedded in my piece and then the other one, there's a link to it and it's only five minutes. It's called Agua Viva. I do love that they really try to engage with nail salon workers as people and they definitely don't shy away from the exploitative practices in the salons, but also flushes them out as full human beings.
Anything you're looking forward to in particular coming up?
Definitely a few films. I'm really looking forward to Widows, which is the new Steve McQueen movie. He directed 12 Years a Slave and got the best director Oscar, so this is his follow up. It stars Viola Davis and is basically based on a British TV show that Steve McQueen grew up watching about four widows of gangsters who decide that they're going to take over for the family business. Alongside Viola Davis, there's Michelle Rodriguez, Elizabeth Debicki, and Cynthia Erivo as the foursome. And it's written by Gillian Flynn, who is the author of Gone Girl. I'm just really looking forward to badass women of color doing badass stuff.
You know, weirdly, perversely I'm looking forward to A Star is Born. This movie does not need to exist. I believe there are three other versions of A Star is Born already and the Judy Garland version is a masterpiece, and yet, I guess I'm looking forward to this even if the trailer I find bores me to tears.
It's Bradley Cooper, who is playing the older man, and it's Lady Gaga who plays the younger emerging singer that he's going to mentor and then, according to the premise of A Star is Born, eventually eclipses him and he has to deal with what that means for their relationship and what that means for his sense of self.
I think there's just a lot of questions up in the air in terms of how this is going to come off. I'm looking forward to it. I'm looking forward to the singing. I don't really love either Bradley Cooper or Lady Gaga as performers exactly, but they're such a weird combination, I feel like the combination of them could be interesting because they're two people I would never have put together.