Dan Kois' Week on the Road
Day 1: A live podcast and the usual tourist town-lust.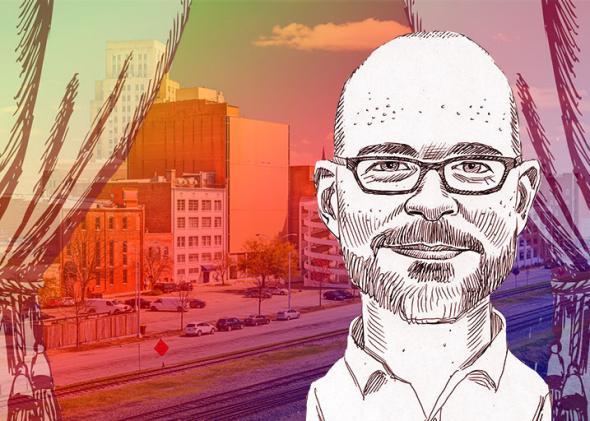 On Slate Plus, we're relaunching the feature—but with Slate staff. Take a look inside a week in the life of our magazine's editors, writers, designers, developers, and more in the new Slate Plus Diary. To start us off, here's culture editor Dan Kois. Use the comments to let us know whose Diary you'd like to read. —Slate Plus editors
Everyone truly is friendlier in the south, I am reminded this morning as the cops outside Raleigh-Durham International Airport cheerfully allow us to idle for about half an hour as we wait in our rental car for Allison and Joel to get their baggage. It's the first day of a week I'm spending mostly on the road—first here in North Carolina then in Nashville, Tennessee, to report a story.
The four of us—me, Allison Benedikt, Joel Meyer, and my attractive lawyer wife Alia Smith—are in the Triangle for tonight's first-ever Mom and Dad Are Fighting live show, at a little rock club in Durham. As is my wont, I am anticipating a triumph, despite soft ticket sales and the fact that I've still only written about half my script. As is her wont, Allison is anticipating a fail, despite the fact that we're good at podcasting and have an ace producer along with us.
We've been wanting our own live show for a really long time—it's what the big boys of Slate podcasting get!—but it didn't really happen until Christina Rentz, a publicist at Durham's Merge Records and a big fan of the show, bugged us for months to make it so. Merge's co-founder (and lead singer of Superchunk), Mac McCaughan, is our special guest, and Merge sponsored a bunch of ticket giveaways and is supplying goodie bags and samplers for the show. We've been promoting the show in our usual probably-not-that-useful manner, and we're hoping it will lead to bigger and more ambitious live shows in the future.
Alia and I spend the afternoon with her brother and his family, puttering around their yard and playing with a baby and eating lunch by the DBAP. Conversation mostly revolves, as it often does with them, around wistful speculation about how much our houses would need to be worth for us to quit working forever and move to, like, Ecuador. (Spoiler: Much more than they are currently worth.) Compounding this is a real problem I have whenever I travel anywhere: I've only been in Durham for a few hours, and I, as usual, am already thinking about what a nice place it would be to live and vaguely fantasizing about what it would take to make that happen.
Are we going to move to Durham? Beats me. It's about as likely as us moving to Portland, Oregon; Los Angeles; New Hampshire; Istanbul; Anna Maria Island, Florida; Milwaukee; or any of the other places I have visited for work or vacation in recent years. I in fact really like our current neighborhood in Arlington, Virginia, and am pretty solidly happy with our lives (though at the moment our actual day-to-day is a shit show, given various work stresses, end-of-school-year madness, and persistent colds). But something about being in a new place makes me inevitably view it through the lens of how much better/simpler/more exciting/warmer/more cosmopolitan my life could be if only we lived here instead. It has a lot to do, of course, with being away from the grind; I'm in Durham for work, but I spend a lot of my time hanging out drinking a beer on my brother-in-law's porch. If I actually lived in Durham, I surely would be staring at a computer all the time (though possibly still drinking beer).
The live show, when it finally happens, is a triumph, of course! (It will go live to the MADAF feed on Thursday, June 18.) We sell lots of walk-up tickets, so Motorco is pretty much full; a bunch of old friends from our college days come to cheer, including the married couple that Alia and I viewed as our parenting role models before we were even thinking about being parents; Mac is a charming guest/co-host, joining in winningly on our conversations and, for our Plus segment, playing cover songs his kids love. (His new solo album is great! Buy it!) Allison, of course, is funny and wise and candid as always, despite the fact that—as she did not tell us until two minutes before we went onstage—she has never been on a stage before in her entire life. ("Well, once Dan made me sing karaoke, does that count?")
As is always the case, being in front of a crowd makes me superthirsty for laughs, so I am a little hammier than I ought to be and steal focus a lot. But we put on a very good show and people seem to have a really good time. It's even possible that—minus plane fare and Allison and Joel's hotel—we made a tiny amount of money on this trip, unless my stupid decision to prepay for a full tank of gas in the rental car erases that. SORRY, BUSINESS SIDE OF SLATE. The good news: We hear back from Slate's new live-programming coordinator, Faith Smith, that she wants two more MADAF live shows this year, one in D.C. and one in New York. We made it, Mom!