Dan Kois' Week on the Road
What happens the day the piece you worked on for months finally gets published.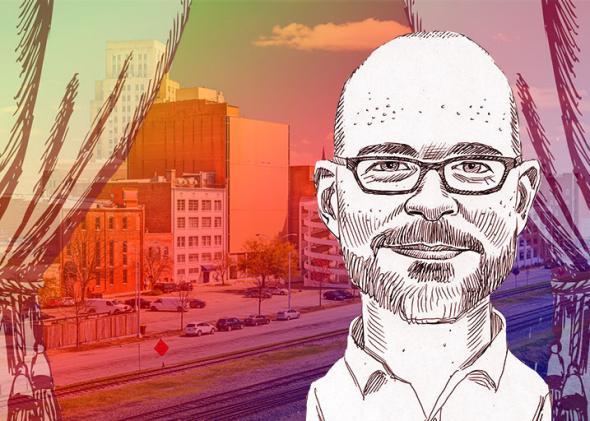 On Slate Plus, we're relaunching the feature—but with Slate staff. Take a look inside a week in the life of our magazine's editors, writers, designers, developers, and more in the new Slate Plus Diary. To start us off, here's culture editor Dan Kois. Use the comments to let us know whose Diary you'd like to read. —Slate Plus editors
With our live podcast done, Allison, Joel, and Alia are headed back to their respective homes today; I've got a noon flight to Nashville, Tennessee, to report an honest-to-god country music story. But before that, I am driving from Durham, North Carolina, to Chapel Hill to inspire/depress a passel of student journalists at my old college newspaper. But before that, I'm getting a breakfast biscuit at Sunrise Biscuit Kitchen. And before that—well, during that, really during the whole entire day—I'm watching Twitter and Facebook and our traffic-tracking service Chartbeat to see how my story is doing. Because on top of everything else, today's the day my ClickHole piece finally goes live.
The day a writer's big story gets published at Slate has a kind of ritual about it. The piece usually goes up late at night—mine actually was published at 2:41 a.m.—and so when you wake up, you spend the appropriate amount of time staring at it on your phone and grinning gleefully. You craft your tweet, trying to strike the right mix of self-effacement and self-promotion. Later in the morning the editor on the piece sends a very nice email to the staff about the story—this is an important and welcome part of the ritual, one that I've always enjoyed, whether as the subject of the email, the writer of the email (when I edit others' features), or simply a co-worker excited to finally read the thing my colleague's been working on forever.
But mostly the day is all about the long comedown. I'll refresh Twitter and search Twitter and see if anyone liked my Facebook post and check Chartbeat and re-refresh Twitter and re-search Twitter and fave someone's tweet and notice a sentence in the piece I wish I'd written differently and check Chartbeat again and uuuugggggh, you can waste an entire day like this. I have, in the past. This thing I spent months on is finally in the world! I've read it a trillion times. My editor's read it a million times. Our copy editor read it a couple of times. But no one else has read it at all, so the compulsion to do nothing but soak up people's responses—because we now live in an era when people can respond really, really fast—is overwhelming.
This time around, that compulsion is kept in check by a lot of travel and stuff to do. The faculty advisor at the Daily Tar Heel, Erica Perel, asks if her staff can see what Slate's Chartbeat looks like, and I happily show them my piece right up there at the top of the morning's rankings. (Its primacy is short-lived, because Dear Prudence soon overtakes me—such is the fate of all Slate stories.) But after that, I barely even think of my story out there in the world as the UNC students who make up the summer staff of the DTH pepper me with questions about Slate, about freelancing, about advertising, traffic, long-form, Game of Thrones, and more. (Seriously! I only refresh Twitter like three or four times the entire hour.)
The office of the DTH is different from in my day, when we rented out space in the student union. (Now the paper has its own fancy building on Rosemary Street.) But the atmosphere feels the same; everyone is smart and curious and worried about the future, just like we were. I worked with a lot of fascinating people, who tolerated me even though I had no journalism training and was mostly making it up as I went along. (I have a vivid memory of then-editor, now–Middle East reporting hero Thanassis Cambanis laughing in disbelief that I thought it was OK to waltz into the page layout and rewrite my headline, even dropping the hed's font size eight points to stuff in extra words.) It's a real privilege to meet this new crop of young editors, also presumably making it up as they go along, and tell them: Yes, it is entirely possible that one day you will almost feel like you know what you're doing. It happened to me!
[Editor's note: Here's Dan's 1997 review of Pulp Fiction in the Daily Tar Heel. Because we know you're curious!]
From Chapel Hill I speed to the airport (I only check Twitter at stoplights) and fly to Nashville (no Wi-Fi on the plane) and drive to my hotel in the Gulch. Once there I call the publicist who's arranging my meeting with singer Ashley Monroe, whom I'm profiling for Slate. We're supposed to meet for our first conversation in just a few hours. The publicist tells me that all meetings are off today due to Monroe being ill. Ashley's very sorry, he says; she normally wouldn't do this, but she's in a lot of stomach pain and just can't meet. Her concert tomorrow is up in the air but they're all very hopeful that she'll play and that maybe I can meet her, even if just for a moment.
I hang up the phone and sigh. I've got two days in Nashville to report this story, and one of them is now a complete wash. I hope Ashley Monroe's stomach feels better tomorrow—you know, out of basic human decency, but also because my culture section doesn't spend money on flights and rental cars and hotel rooms that often, so it'd be a bummer if all this was for nothing.
My hotel room overlooks downtown, and a huge summer storm is roaring in from the west. Soon the sky's gone nearly dark, and rain sheets my windows. I open my laptop; I've got pieces to edit and emails to reply to and Slack conversations to chime in on.
I wonder how my ClickHole piece is looking on Chartbeat, I think idly.