Chance the Rapper's Beautiful New Song Reflects on Life's Contradictions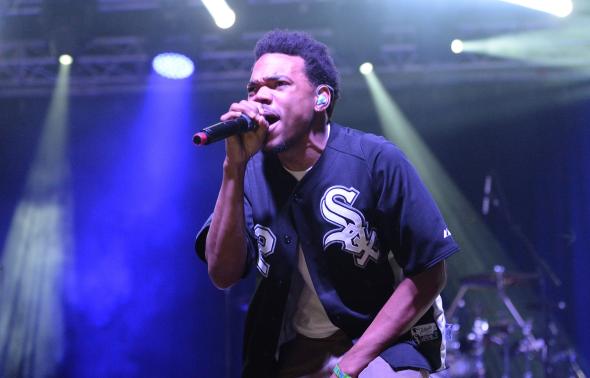 There are only a couple of months and change left in 2014, and, still, Chance the Rapper's soulful, glorious cover of the Arthur theme remains one of my favorite songs of the year. It's just one of many stand-alone tracks he's put out since March, including a collaboration with Skrillex, a raw studio cut, and, today, a surprise new song that's perfect for the fall. Titled "No Better Blues"—a twist on Spike Lee's Mo' Better Blues—it's being released, as Pitchfork notes, to launch Twitter's new Audio Card, which will allow users to stream recordings uploaded to SoundCloud and tweeted by certain partners directly in their mobile feeds.
While he's once again backed by his band The Social Experiment, "No Better Blues" nonetheless resembles the kind of a cappella stream of consciousness Chance let loose for his XXL Freshman 2014 performance earlier in the year. But it's less feel-good than much of his acclaimed 2013 Acid Rap mixtape: He spends the entirety of the song listing things he hates, from the trivial (his bed, "virtually all vegetables") to the serious ("I hate darkness, I hate racists/ I hate white people"), all while pointing out the insufferable contradiction of it all ("I fuck to hurt, it hurt to date, I hate to date/ I fuck to hate, I hate to love, I hate to hate").
Chance probably hates Twitter's Audio Card, too, and maybe he hated taking part in its launch. But, as he himself suggests, that's just the way life works most of the time.